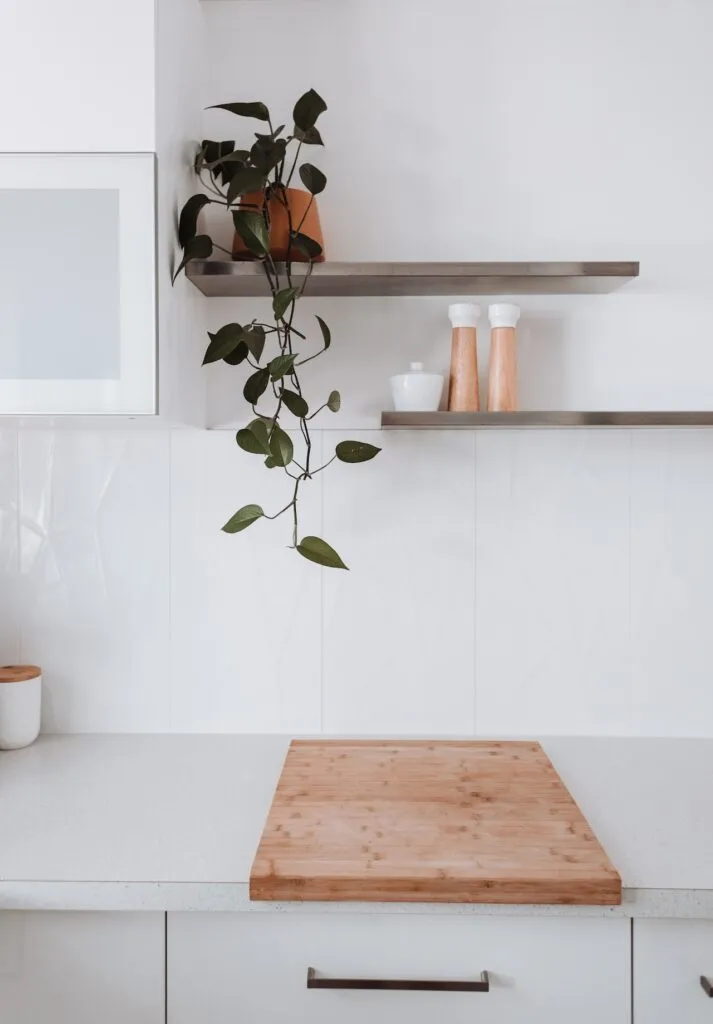 In a modern house setting, the kitchen is the center of the household where we cook, eat, and gather as a family. It's also the place where we entertain guests and where everyone congregates during parties. Because of its central role in our lives, it's important to keep the kitchen clean, organized, and clutter-free.
Now it's confession time: I am not a naturally tidy person. I have to work hard to keep my kitchen clean and organized, but it's worth it because I love to cook and entertain. But sometimes, I was totally stressed out about having people over because my kitchen wasn't up to my standards.
So, I decided to set some rules for myself to help keep the kitchen clean and clutter-free. These are the eight golden rules for maintaining a clutter-free kitchen that I swear by. Busy moms, follow these rules and you'll be able to keep your kitchen clean and organized too!
Golden Rule #1: Designate a Place for Everything
One of the main reasons kitchens become cluttered in the first place is because we don't have a designated place for everything. When there's no logical place to put something, it tends to just end up on the counter or in a drawer. So, the first step to decluttering your kitchen is designating a place for everything.
For example, I have a cabinet for all my Tupperware and another one for plastic food storage bags. I also have a drawer for all my cutting boards and another one for miscellaneous items like aluminum foil and wax paper. Spatulas and cooking utensils can go in a utensil holder on the counter near the stove, pots and pans can go in a pot rack or in cabinets near the stove, knives can go in a block on the counter or in a drawer near the stove, etc.
By giving everything a designated place, you'll be more likely to put things away where they belong and less likely to just leave them out on the counter.
Rule #2: Put Things away Immediately after Using Them
This rule is especially important for busy moms who might not have time to do a deep cleaning of the kitchen every day. As soon as you're done using an item, put it away in its designated spot. If you don't have a place for something, find one or get rid of it.
For example, if you're cooking dinner and you pull a pot out of the cabinet, put it back as soon as you're done using it. If you're chopping vegetables on a cutting board, wash it and put it away immediately after you're done. As soon as you're done eating breakfast, clear away the cereal bowls and coffee cups, and so on.
The goal is to have as few dirty dishes, pots, and pans out at any given time as possible. By putting things away immediately after using them, you'll be less likely to leave them out and make a bigger mess later.
Rule #3: Don't Keep Things You Don't Use
One of the quickest ways to declutter your kitchen (or any room in your house) is to get rid of things you don't use. We all have that one drawer or cabinet that's crammed full of old gadgets, Tupperware lids without bottoms (or vice versa), single socks, etc. If you haven't used something in six months (or longer), chances are you never will. So get rid of it!
Your kitchen should be the place where you feel relaxed and comfortable, not a place where you feel stressed out because there's too much stuff. Think about the time when you were making some pancakes and it took you forever to find the measuring cups because they were buried under a bunch of junk. Getting rid of things you don't use will help you find the things you need when you need them, and it will make your kitchen feel less cluttered.
Golden Rule #4: Store Similar Items Together
As I've mentioned in my first golden rule, one of the best ways to keep your kitchen organized is to give everything a designated place. But another way to keep things organized is to store similar items together. For example, I keep all my baking supplies (flour, sugar, baking powder, etc.) in one cabinet and all my spices in another cabinet. I also keep all my pots and pans in one place, all my Tupperware in another place, and so on. Every time I need something, I know exactly where to find it.
Storing similar items together will not only make your kitchen more organized, but it will also make it more efficient. You won't have to waste time searching for things when you could be spending that time cooking or eating!
Golden Rule #5: Regularly Clean out Your Refrigerator & Pantry
Cleaning out your fridge and pantry will help you declutter your kitchen by getting rid of old, expired, or unused food items. It will also help you save money because you won't be buying things you already have.
I like to do a quick fridge & pantry cleaning every week or two, combined with a deep-cleaning one every month. During my quick cleanings, I'll just take everything out and put back the things I know we'll use in the next week or two. I'll throw away any expired food items or things that are past their prime.
During the deep-cleanings, I'll go through everything with a fine-tooth comb and get rid of anything that's been taking up space for too long. I'll also use this time to wipe down the shelves, vacuum the floors, and clean any spills or crumbs.
Of course, you don't have to do a deep-cleaning every month, but it is important to regularly clean out your fridge and pantry so that you can declutter your kitchen and keep it organized. Plus, it's always a good idea to have a clean fridge and pantry for food safety reasons!
Golden Rule #6: Don't Let Your Dishes Pile Up
I'm sure we've all been guilty of letting our dishes pile up in the sink (or even on the counter) at some point. But if you want to maintain a clutter-free kitchen, it's important to not let your dishes pile up.
One way to avoid letting your dishes pile up is to do them as soon as you're done using them. This might mean doing a load of dishes after every meal, or it might mean setting a timer for 30 minutes at the end of the day and washing all the dishes before the timer goes off.
It just takes you less than a minute to do a quick rinse after you're done using a dish, another 30 seconds to put it in the dishwasher, and then you're done! It might seem like a pain to have to do dishes more often, but it's definitely worth it in the long run.
Golden Rule #7: Put away Groceries ASAP
As soon as you get home from the grocery store, put away the groceries. I know it's tempting to just leave them on the counter or in the bags, but it's important to put them away ASAP. This is one rule that many people struggle with because it's easy to just leave groceries sitting on the countertop or stuffed into the fridge instead of putting them away in their proper place right away. But taking that extra few minutes to put away groceries as soon as you get home can save you time and hassle later on—not to mention it will help keep your kitchen looking clutter-free!
My tips for quickly putting away groceries are:
Put like items together while you're unpacking the bags so you can easily put them away in one trip. For example, put all the canned goods together, all the dry goods together, etc.
Unpack everything onto the counter or table and then put it away. Don't leave things in the bags because it will be more work to unpack them later on.
If you have kids, put them to work! Kids love helping out in the kitchen, and this is a great way to get them involved. They can help unpack the groceries and put them away.
Golden Rule #8: Have a Place for Trash & Recycling
Last but not least, make sure you have a place for trash & recycling—preferably out of sight! No one wants to see garbage cans taking up space on their counters or taking away from the aesthetic appeal of their kitchen. So tuck them away in a cabinet or closet if possible (or outside if that's an option).
In the worst case, if you don't have space for separate garbage & recycling bins, look for multi-compartment bins that can accommodate both. Although they might not be as attractive as separate bins, they'll definitely be more functional and can help you keep your kitchen looking clutter-free.
The Bottom Line
Keeping a clutter-free kitchen is all about being proactive and taking the time to do things right. But even if you don't have time to do everything perfectly, it's totally totally OK to let things slide once in awhile. Life happens, and we are not superwomen (or supermen) with super power to not feel tired or to have enough time to do everything. So be patient with yourself, and don't beat yourself up if your kitchen isn't perfect all the time. Just do the best you can, and know that even small steps can make a big difference in the long run! After all, cooking is supposed to be fun, not stressful.
I hope you enjoyed these tips and that they help you declutter your kitchen! If you have any questions or suggestions, please feel free to leave a comment below. I would love to hear from you!