There is nothing that can match a side dish of garlic butter pasta. It is so tasty and goes with anything you make. It is super simple to make and is ready in about 20 minutes. Many people will add cheese, whether it is Parmesan or another type, to make it cheesy Garlic Butter. This tastes phenomenal! This will become the newest favourite for your family after the first bite.
This recipe calls for spaghetti. I have used Fettuccine, Angel Hair Pasta and regular spaghetti. This is classic comfort in a bowl. I will generally pair this with Lemon Garlic Chicken. But, seriously, it will go with any food you want to pair it with.
Why You Will Love This Recipe
It is simple to prepare. This is a simple pasta dish that takes little planning and can be prepared in a short amount of time.

It is effortless. There are only a few steps, minimal chopping, and only basic cooking abilities are required.

It is delectable. Don't be fooled by the recipe's simplicity. This flavorful vegetarian supper recipe is a must-try.

It is creamy. The pasta water combines with the butter and cheese to create a delicious, creamy dish.

It has a good balance. The richness of the pasta and butter is wonderfully balanced. Thanks to a dash of spice and acidity.

It is adaptable, serving as a stand-alone meal, with your preference of protein, or as the pasta course in a classic Italian dish. This simple pasta recipe can be tweaked in a range of ways. Spices, herbs, and other proteins can be added, as well as different types of cheese.

It is cost-effective. Pasta is a low-cost pick for a meal. The ingredients are used in minuscule volumes and are therefore cost-effective.
What do you need to make five-ingredient garlic butter pasta?
8 ounces bowtie pasta

1 bag of frozen broccoli florets

4 tbsp butter, unsalted

3 tsp garlic and shallot, minced

½ cup Parmesan Cheese, grated
How to Make Five Ingredient Garlic Butter Pasta?
This garlic butter pasta comes together quickly — so quickly, in fact, that if you're using dry pasta, you'll need to start cooking the pasta before the sauce.
Step 1: Start making the pasta.
Prepare your pasta in a pot of moderately salted water (it should taste like the sea). Then you'll have enough time to dice shallots, minced garlic, and grated cheese before starting the sauce.
Step 2: Make the sauce.
It's time to start preparing the garlic butter sauce when the pasta has around 5 minutes left to be done.
In a saucepan over moderate heat, melt the butter.

Add the shallots and chop.

Stir the shallot and cook for 1 minute; careful not to burn it.

Add the minced garlic and cook for an additional minute. Again, do not allow the garlic or shallots to burn. It's fine to have a little colour, but don't overdo it.

Pour in the Worcestershire sauce.

Pour in the white wine and cook for thirty seconds to dry up some of the liquid.

The sauce should be slightly thickened at this point.

Toss in the pasta.

Finally, pour in the pasta water.

Mix thoroughly, ensuring that all of the pasta is evenly coated.

Sprinkle the parmesan cheese on top.

When serving, season with freshly ground black pepper and more parmesan cheese.
Tips and Trick
1.Make sure the pasta water is well salted. It should have a sea taste.
Cook the pasta until it is near done but not overcooked. It's easiest to tell if the pasta is perfect by tasting it. It should be supple when you bite into it yet still have some resistance.
To prevent burning the garlic, keep the sauce on a medium heat setting.
The trick to making this sauce particularly creamy is to use the pasta cooking liquid. As a result, please don't skip it!
Use black pepper that has been freshly ground. It truly does make much difference in this recipe.

Use fresh, homemade pasta to amp up the taste. Boil the pasta water first, then add the pasta shortly before adding the Worcestershire sauce to the garlic butter sauce.
Make it vegetarian by substituting Parmesan for an Italian parmesan-style hard cheese made without using animal rennet. This may be found at most big stores.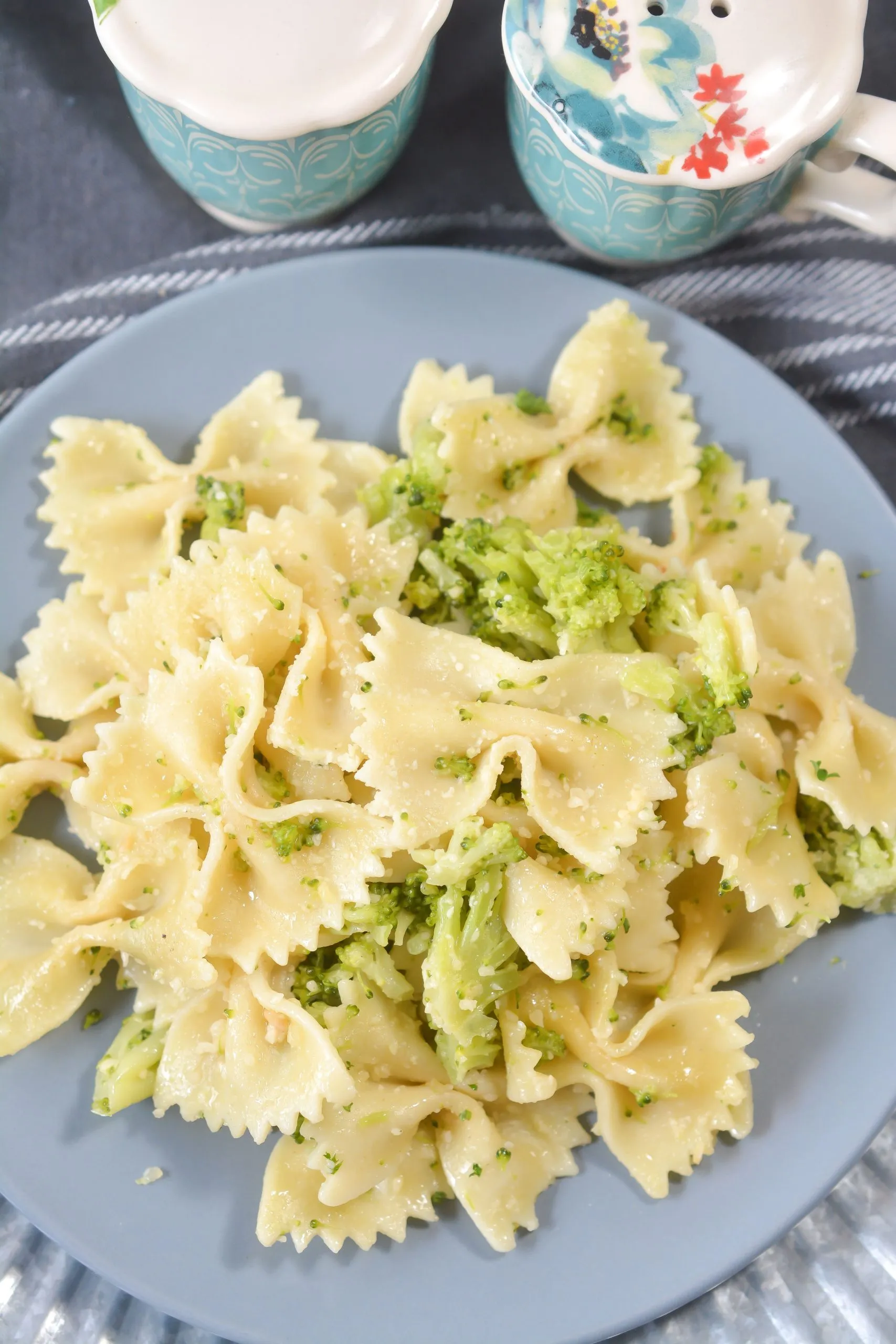 Recipe variations
At the very end, add clean herbs such as parsley or basil.

For a different flavour profile, add vegetables such as cherry tomatoes or braised peppers. To keep the richness of both of these, I'd add them near the end.

Toss some mushrooms in the butter first, then add more butter until they are no longer absorbent. Then, add a couple more tablespoons of butter for the sauce, followed by the shallots, and finally, the minced garlic.

Toss in some spinach for added nutrition. I'd toss it in with the spaghetti at the same time.

For crispness, add crushed walnuts (raw or roasted).
How to Serve Garlic Butter Pasta?
Add your preferred protein. Shrimp or chicken would be my first choices, whether served separately or combined along with the sauce.
Asparagus or broccoli, either on the side or combined in with the sauce, are nice options too.
Frequently Asked Questions
What should I serve with this?
You could technically eat a bowl of this all by itself. However, for a meal, serve it with any type of protein. You could also make a simple salad on the side.
What vegetables would be good with this?
I prefer grilled and roasted potatoes myself. I usually lean toward grilled asparagus or roasted broccoli.
When stored in an airtight container in the refrigerator, this dish will be fresh for 3 days.
Yes, it is possible to freeze it. Although there is nothing like eating pasta meals shortly after they are prepared, leftovers can be frozen in an airtight container for days. When you freeze pasta, it loses some of its texture, but as long as you let it thaw properly before heating it rather than jamming it in the microwave on high, it is typically fine.
Is Garlic Butter Pasta a vegetarian dish?
No way, especially if it is made with Parmesan cheese. Substitute an Italian "Parmesan-style" hard cheese processed without animal rennet for Parmesan cheese to make it vegan.
Conclusion
Use a lot more garlic than you would imagine for the finest garlic butter sauce for pasta. This ingredient transforms from sharp and startling to warm and soothing when oozed in heated butter till brown and toasted, a delicious flavour that is hard to go wrong with. Do not drain the pasta into a basin once it is finished cooking. We will need that salty, sticky water on hand to help season the sauce and loosen it up as needed. It will thicken while it sets at the table, so go for the saucier side.
Also, if you only have salted butter available, do not worry about it; just reduce the salt all through the remaining of the recipe and adjust to taste at the end.
Finally, any pasta shape will work well in this case. Some others prefer a chunky type with a lot of nooks and crevices for the garlic bits to hide in. However, something long and wiggly, such as spaghetti or bucatini, would also taste delicious. What if you prefer savoury whole-wheat pasta? Take a chance.
Yield: 4
Easiest 5 Item Butter Pasta with Garlic
Ingredients
8 ounces Bowtie pasta
16 ounces broccoli florets
4 tbsp unsalted butter
¾ cup freshly grated Parmesan cheese
3 tsp garlic, freshly minced
½ cup vegetable broth
½ cup white wine
Instructions
Cook pasta according to the package directions, drain, rinse and set to the side reserved ½ cup of the pasta water
In a skillet over medium heat, melt the butter.
Add in the garlic and let it saute until it is fragrant
Add in the wine and the broth and allow to reduce by half
Toss in the pasta and add the reserved pasta water
Toss to coat all of the pasta
Add in the Parmesan Cheese, save some Parmesan for Garnishing
Nutrition Information:
Yield:
4
Serving Size:
1
Amount Per Serving:
Calories:

339
Total Fat:

18g
Saturated Fat:

10g
Trans Fat:

0g
Unsaturated Fat:

6g
Cholesterol:

47mg
Sodium:

472mg
Carbohydrates:

30g
Fiber:

5g
Sugar:

2g
Protein:

12g