It has often been told to me when I share this recipe that it is dangerous. I am told it is extremely addicting and tasty, difficult to stop at one serving. That is exactly what I love to hear! It means that I am not alone in that feeling and it also means that everyone enjoys the food. This casserole is super cheesy and topped with a crunchy topping that will win you over.
This may resemble other recipes, and it is similar, but I have upped the flavor and the delight that one has when eating this casserole. We have mixed the hashbrowns with not only cheese, but creamy soup, and a touch of sour cream to give it just a slight tang.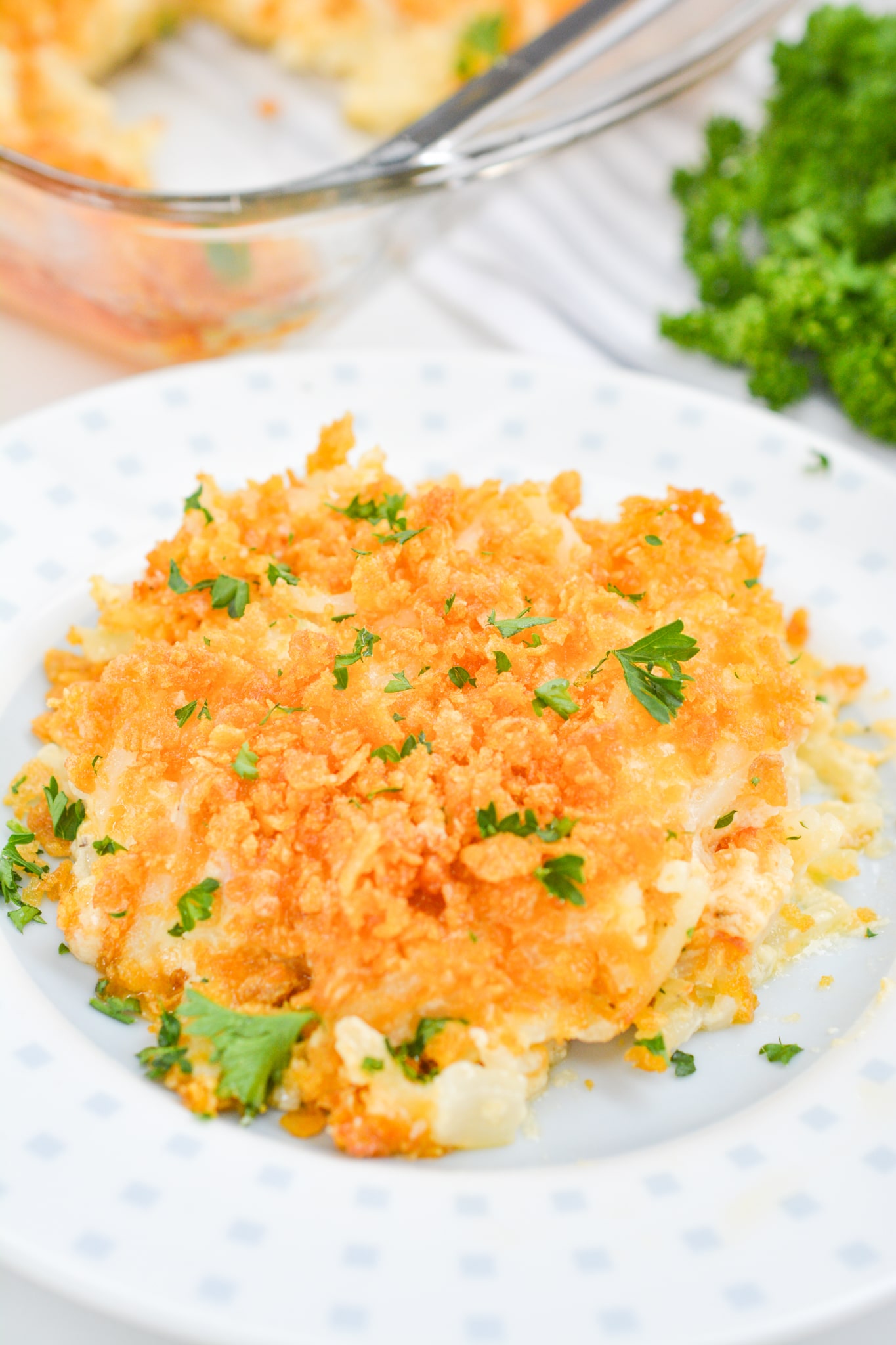 Frequently Asked Questions:
Can I make my own hash browns?
You certainly could make your own. I prefer the ease of picking up our favorite frozen hash browns and using them.
Could I add meat to this recipe?
You can add any type of meat that you would like. That would make it a complete meal. I have made this with bacon, ground sausage, ground beef and even leftover Turkey. I could not complain about the flavor at all.
How do I store the leftovers?
When the dish has cooled completely, it can be placed in an airtight container and then into the refrigerator. You can keep the leftovers for up to 3 or 4 days.
Can I make this in advance?
You could make this one day in advance. I do not suggest putting the Corn Flakes on the top until you are baking it or reheating it to serve.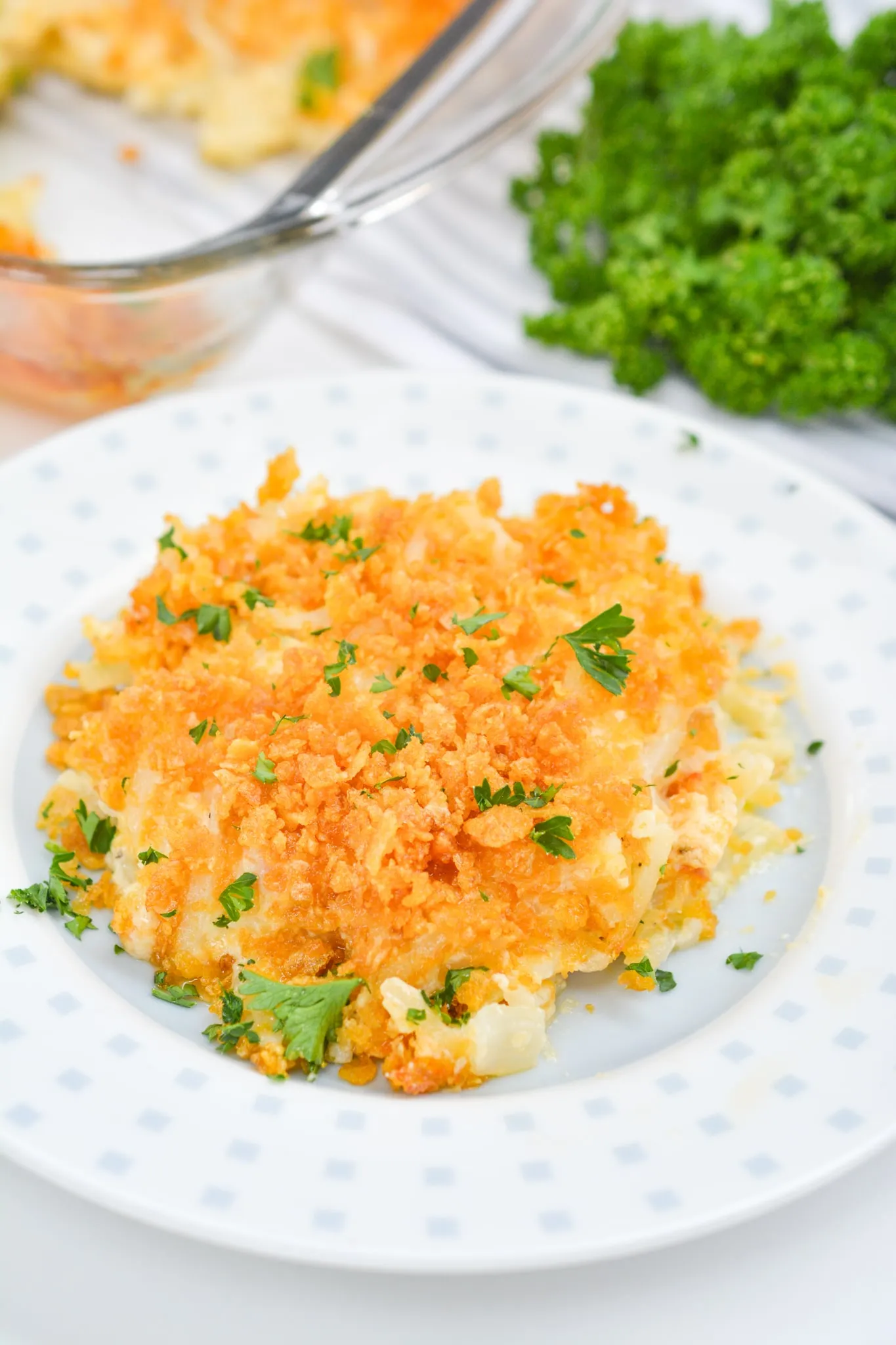 What do you need to make Hashbrown and Cheese Casserole
2 ½ pounds Hashbrowns, frozen, then thawed
8 ounces Sharp Cheddar Cheese, shredded
1 cup Butter, unsalted and melted
1 tsp Salt
8 ounces Sour Cream
½ White Onion, diced
½ tsp Garlic Powder
½ tsp Black Pepper
1 can Cream of Chicken Soup
2 cups Corn Flakes, crushed
How to make Hashbrown and Cheese Casserole
FIRST STEP:
Preheat the oven to 350*
Spray a 9×13 casserole dish with non-stick spray
In a bowl combine soup mix, sour cream and ½ cup melted butter
Stir in the hash browns and the onions, along with the cheddar cheese
Season with the Salt and pepper, and the Garlic powder
Stir until thoroughly combined
Spoon the mixture into the prepared casserole dish and spread evenly
SECOND STEP:
In another bowl add the crushed Corn Flakes and the remaining butter, stir together and then sprinkle over the hash brown mixture
THIRD STEP:
Bake for 40 minutes, or until it appears melted and bubbly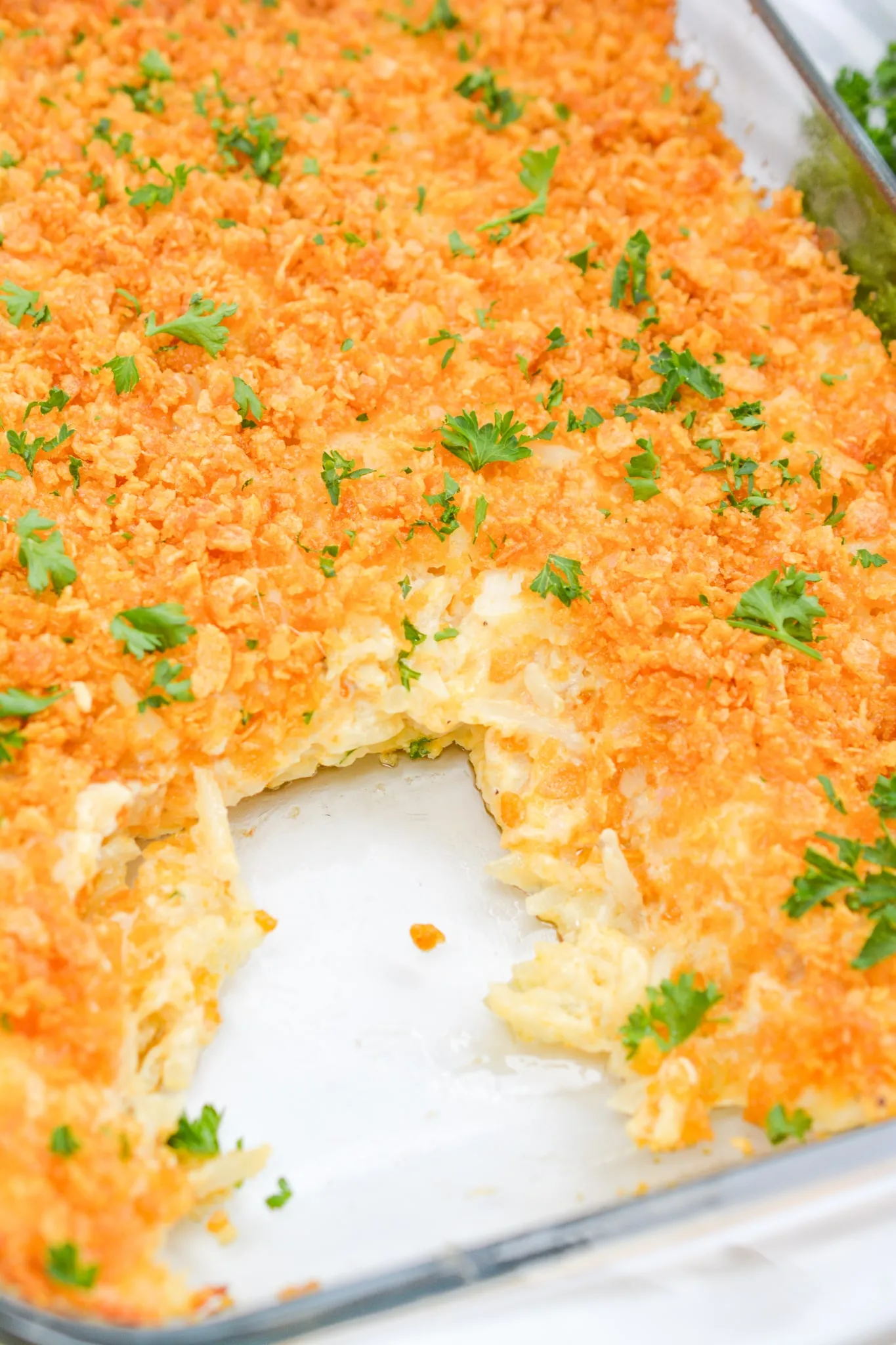 Serve hot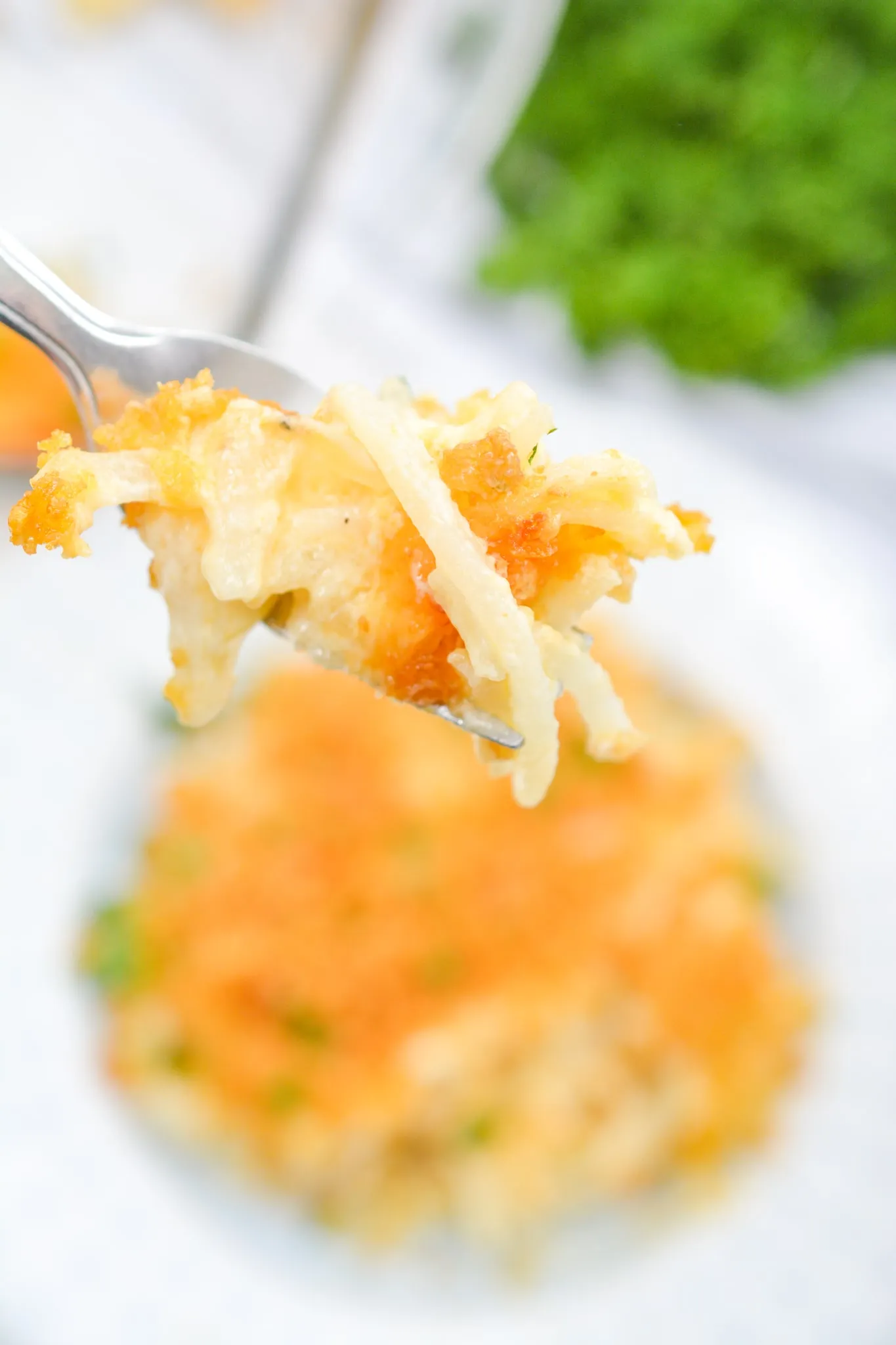 Yield: 6
Hashbrown and Cheese Casserole
Ingredients
2 ½ pounds Hashbrowns, frozen, then thawed
8 ounces Sharp Cheddar Cheese, shredded
1 cup Butter, unsalted and melted
1 tsp Salt
8 ounces Sour Cream
½ White Onion, diced
½ tsp Garlic Powder
½ tsp Black Pepper
1 can Cream of Chicken Soup
2 cups Corn Flakes, crushed
Instructions
FIRST STEP:
Preheat the oven to 350*
Spray a 9x13 casserole dish with non-stick spray
In a bowl combine soup mix, sour cream and ½ cup melted butter
Stir in the hash browns and the onions, along with the cheddar cheese
Season with the Salt and pepper, and the Garlic powder
Stir until thoroughly combined
Spoon the mixture into the prepared casserole dish and spread evenly
SECOND STEP:
In another bowl add the crushed Corn Flakes and the remaining butter, stir together and then sprinkle over the hash brown mixture
THIRD STEP:
Bake for 40 minutes, or until it appears melted and bubbly
Serve hot
Nutrition Information:
Yield:
6
Serving Size:
1
Amount Per Serving:
Calories:

124
Total Fat:

12g
Saturated Fat:

6g
Trans Fat:

6g
Sodium:

242mg
Sugar:

14g
Protein:

12g