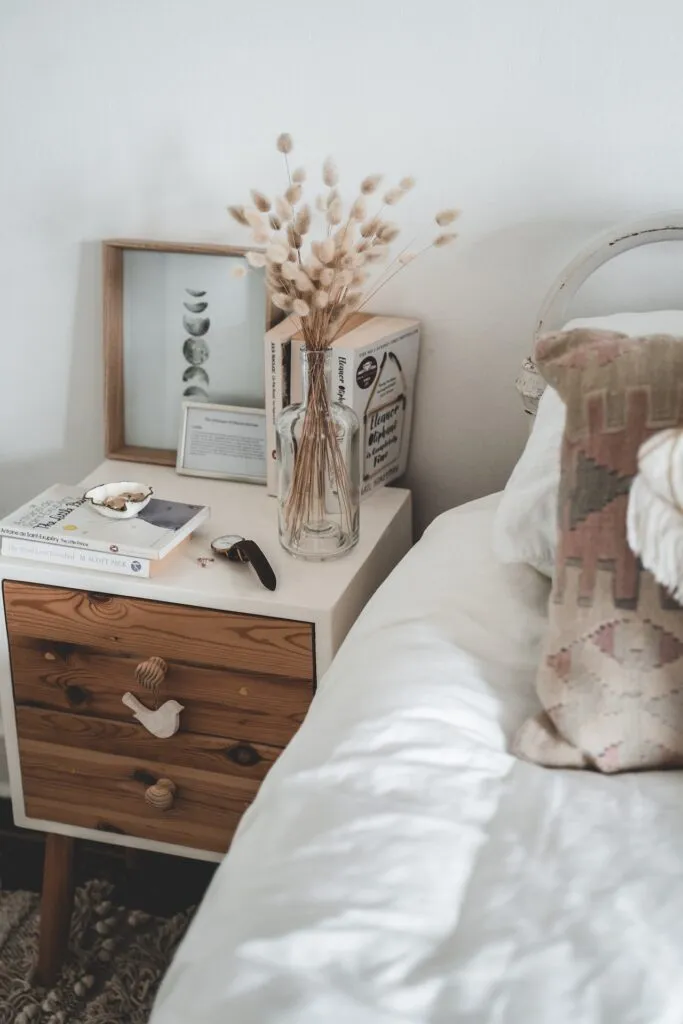 Hey lovely! We all know how hectic mom's life is, and it's easy for our bedrooms to become a dumping ground for all the things we don't have time to deal with during the day. But your bedroom should be your sanctuary. A bedroom should be a restful oasis, a place to escape the hustle and bustle of everyday life, a place where you can go to relax and unwind at the end of a long day.
But for many of us, our bedrooms are anything but peaceful retreats. If your bedroom is more cluttered than calm, it's time to declutter! In this blog post, I will share my top tips for decluttering and organizing your master bedroom so that it becomes a space you can enjoy.
Start by Purging Everything that Doesn't Bring You Joy
We all have those things we hang on to, just in case. They can be everything—clothes, shoes, jewelry, makeup, and anything else that's taking up space in your bedroom. But if it doesn't bring you joy, why not get rid of it?
To help you with this process, I recommend using the KonMari Method made famous by Marie Kondo in her book, The Life-Changing Magic of Tidying Up. The KonMari method is about surrounding yourself only with things that bring you joy.
To use this method, start by taking everything out of your bedroom and placing it in one big pile in the middle of the room. Then, go through each item and ask yourself, "Does this bring me joy?" If the answer is no, put it aside and thank the item for its service before getting rid of it. You can donate, sell, or throw away the items that don't bring you joy. The goal is only to keep things in your bedroom that truly make you happy.
Once you've gone through everything and purged the items that don't bring you joy, it's time to start organizing what's left.
Create a System and a Storage Plan for Your Bedroom
Now that you've decluttered your bedroom, it's time to start thinking about how you want to organize the space. The first step is to create a storage plan. Ask yourself what kind of storage you need and where you want to put it. Do you need a dresser? A nightstand? Extra shelving? If yes, do you have space for these things in your bedroom?
Most of the time, we need a system, not more storage. I mean, you've thrown away stuff that you don't need, so why do you need more storage?
So, instead of throwing money at the problem and buying more things, try to come up with a system that will work for you and your bedroom without adding any additional pieces of furniture.
A good place to start is by creating a system for your clothes. I highly recommend the simple-yet-effective method of hanging all your clothes hangers in the reverse direction. Whenever you wear something and put it back in your closet, turn the hanger around, so it's facing the other way. After six months, anything that's still hanging in the reverse direction can be donated or thrown away because, chances are, if you haven't worn it in six months, you're probably not going to wear it.
Another way to create a system is by utilizing the space under your bed. You can put storage boxes under your bed or switch to one with built-in storage. This is a great way to use the space that's often wasted. You can use this space for seasonal items, bed linens and blankets, and anything else you don't need to access daily.
Get Rid of Electronics
If you happen to have your home office inside your bedroom, maybe it's time to create a dedicated space outside the bedroom. Having a TV or laptop in your bedroom can make it difficult to relax and unwind before bed, so I recommend removing electronics from your sleeping space.
If you want to keep your electronics in your bedroom, try to create a designated area for them so that they're not taking up valuable space on your nightstand or dresser. But, regardless of where you keep your electronics, make sure to charge them in another room so that you're not exposed to the blue light they emit while you're trying to sleep. By all means, your bedroom should be a haven for relaxation, not a place where you're bombarded with stimulus and distractions.
Do You Really Need More Décor or even some Plants?
Seriously, think about it. Do you need more pictures on the wall or another trinket to dust? Probably not. Less is often more when it comes to bedroom décor.
I know, I know. People keep talking about how plants are good for your health and how they can purify the air in your home. And while that's all true, it doesn't mean that you need to put a plant in every room of your house, including your bedroom.
OK, let me be honest here. Actually, I used to have plants in my bedroom. Yes, I admit it. But guess what? It turns out I didn't have time to water them so often as if they were in the living room, for example. And I wouldn't say I like the idea of watering plants in the bedroom (that's very personal, by the way), so I got rid of them.
However, if you enjoy having plants in your space and you have the time to take care of them, by all means, go for it! But, only do it if it will make you happy, not because everybody is talking about it or because you feel like you should. Your bedroom is your sanctuary, so make sure it's a space that truly makes YOU happy and comfortable.
The same goes for pictures and other décor items. Only add things to your space that bring you joy or sentimental value. Everything else is just clutter and dust collectors.
And This Little No-Brainer
You wake up, get out of bed, open the window to let some fresh air in, and make your bed.
Make your bed every day.
Seriously, it will make a world of difference in your bedroom's overall feel and look. Plus, it only takes a minute or two, and it's worth it! Not to mention, you'll feel more productive throughout the day because you started it off by completing a small task. It might not seem like much, but making your bed every morning will do wonders for your bedroom and overall well-being.
Conclusion
A decluttered and well-organized bedroom can do wonders for your sleep, stress levels, and overall well-being. So, if your bedroom is currently a hot mess, I hope these tips have inspired you to declutter and organize your own space! It can be a transformative process that will leave you feeling happier and more relaxed every time you walk into your room.