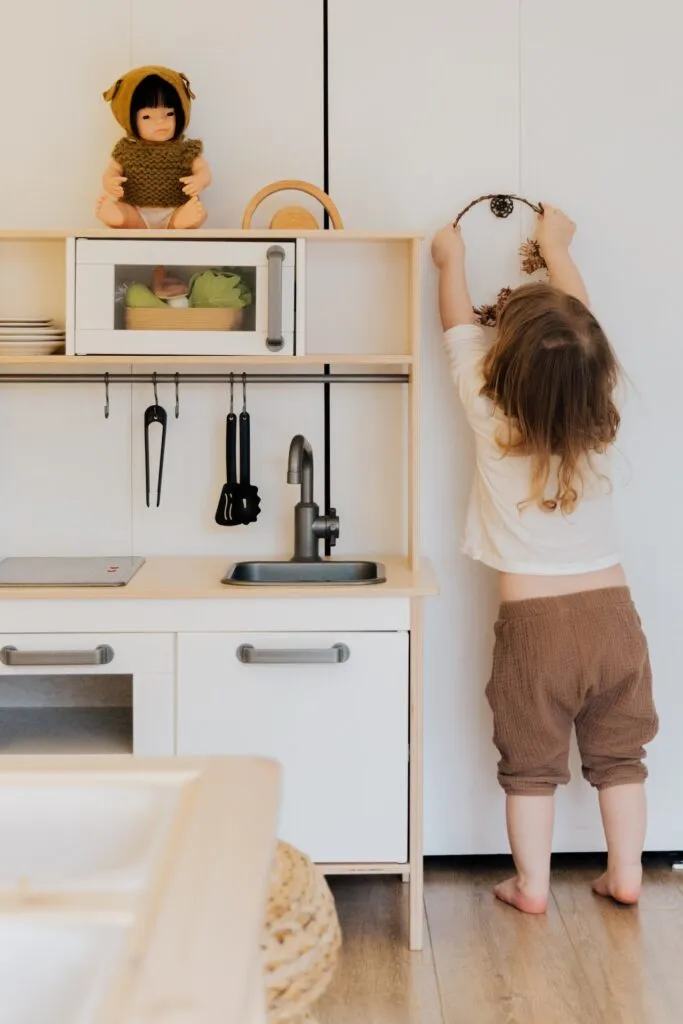 Hey lovely! Today I want to chat with you about one of my favorite topics—ORGANIZATION! More specifically, how to organize your kitchen and keep it clutter-free (as much as possible).
I know that for a lot of us, the kitchen is the heart of the home. It's where we gather with family and friends, cook and entertain, and relax and unwind after a long day. But it can also be a source of stress if it's not organized and tidy.
Trust me; I know that no one's kitchen will ever be 100% clutter-free (mine certainly isn't). Unless you're one of those rare people who enjoys cleaning and organizing (in which case, can you come over to my house?), chances are the thought of decluttering your kitchen fills you with a sense of dread.
We get it—between work, kids, and social obligations, who has time to keep their kitchen spotless? But even if you can't devote a whole day to organizing everything from top to bottom, there are still some easy ways to cut down on the clutter and make your life a little bit easier.
Start by Decluttering the Kitchen
Whenever we want to organize our kitchens, we start by decluttering. This usually means getting rid of anything we don't use or need—which can be much harder than it sounds! BUT, decluttering your kitchen first will make the organizational process much more manageable. You get rid of what you don't need, so you're left with only what you do need—and that's what we're aiming for, right?
Not sure where to begin? Here are some tips:
Get rid of all the plastic boxes and Tupperware without lids. We all have that one drawer or cabinet overflowing with plastic containers of various sizes, most of which don't even have lids. If you can't remember the last time you used a particular container, get rid of it!
Cookbooks you never read. We're all guilty of buying cookbooks, only never using them. If you have a few cookbooks that you never use, get rid of them! Chances are you can find most of the recipes online anyways.
Gadgets and appliances you never use. We've all been there—we see a gadget or appliance that we think will make our lives easier, so we buy it… and then it just sits in a drawer and collects dust.
Cups, plates, and bowls you never use or that are chipped. Do you really need 12 coffee mugs while you're the only coffee drinker in the house? Probably not!
Old kitchen towels and placemats. If you have old, tattered kitchen towels and placemats, it's time to get rid of them! Not only do they not look nice, but they're probably not doing a perfect job cleaning or protecting your surfaces.
Invest in Some Good Storage Containers
So, since you already threw away (or donated!) all of the plastic containers without lids, it's time to invest in some good storage containers. This doesn't mean you have to go out and buy the most expensive name-brand containers—there are plenty of great options at your local dollar store! Just ensure you get something sturdy, stackable, and (most importantly) has a lid.
You'll also want to ensure a good system for labeling the containers. This could mean investing in a label maker or using masking tape and a Sharpie. Whatever works for you! Labeling properly will save you a lot of time and frustration, in the long run, trying to figure out whether that container has flour or sugar.
And speaking of flour and sugar…
Keep Baking Supplies Organized
Baking supplies can be a pain to keep organized. You don't use them that often to warrant a designated spot, but you still need to be able to find them quickly when you do need them.
A great way to keep baking supplies organized is by using mason jars. They're cheap, they come in all sorts of different sizes, and they look adorable sitting on your kitchen counter! Plus, if you label the jars, you'll always know exactly what's inside. Here are some ideas for what you can store in mason jars:
flour
sugar
baking soda
baking powder
chocolate chips
dried fruit
pumpkin spices
Use Your Fridge Wisely
Everybody knows the fridge is one of the most challenging places to keep organized. It's constantly changing, and it's easy for things to get lost in the back of the fridge and go bad. But there are a few easy ways to keep your fridge organized:
Use storage containers: Like with your pantry, storage containers in your fridge will help keep things organized and easy to find.
Have a meal plan: A meal plan will help you use up all the food in your fridge before it goes bad. Not to mention, it'll save you money and time at the grocery store.
Wipe it down regularly: Wiping your fridge regularly (at least once a week) will help you keep on top of spills and stains and will make cleaning easier when you need to give it a good deep clean.
Check before you shop: Before you go to the grocery store, take a quick inventory of what you already have in your fridge. This will help you avoid buying things you don't need and will also help you use up what you have before it goes bad.
Keep Countertops Clear
Finally, one of the best ways to keep your kitchen organized (and stress-free) is to keep countertops clear. Although it can be tempting to leave things out on the countertops, this will only add to the clutter and make it more difficult to find what you need when you need it. So take a few minutes each day to put things away and clear off any surface areas in your kitchen.
Swiping off the counters after meal preparation and wiping up spills as they happen will also help make cleaning a breeze. If you have any appliances you don't use regularly, consider storing them in a cabinet or pantry to free up even more space.
Conclusion
We hope these tips have inspired you to organize your kitchen! Just remember, Rome wasn't built in a day, so don't expect everything to be perfect overnight. Take it one step at a time, and pretty soon, you'll have an organized, clutter-free kitchen that you can enjoy every single day!