Have you ever tried your hand at making lemon snowball cookies? Envision a rich, buttery cookie covered in powdered sugar that melts in your tongue if you have not already. They are, in fact, as delectable as they sound.
These cookies are super buttery and seem to melt in your mouth. Once these are done baking, they get rolled in confectioner's sugar. This is why they are called snowball cookies. If you are like me, snowball cookies are on the list of Christmas cookies that you bake each year for the Holidays. These are slightly different from those Snowball Cookies, but along the same lines, if that makes sense to you.
These are called snowball cookies because of the way they appear, like miniature snowballs. However, The lemon combined with the powdered sugar makes these more of a refreshing and cool taste. Why powdered sugar tastes cold or cool is beyond my realm of understanding, but I will say that refreshing and cool temp is fine by me.
What makes these different is that we will add lemon extract and lemon zest to these cookies. When we make these cookies, we will follow the same basic directions. We also use powdered sugar in the cookie recipe. This allows the cookie to fluff up more when it is baking. It is also optional if you choose to use lemon juice as well as the lemon extract. There is no harm in not using it, but it will help keep the cookies moist.
If you have never made lemon snowball cookies before, trust me when I say they are one of the easiest cookies you will ever make. Only a few simple ingredients are required, and the cookie dough does not need to be chilled!
WHAT DO YOU NEED TO MAKE LEMON SNOWBALL COOKIES?
1 cup sweet cream butter, unsalted

½ cup confectioner's sugar

1 tbsp lemon juice

1 large lemon, zested

2 ¼ cup flour

¼ tsp salt

¾ cup confectioner sugar for rolling

Baking powder
HOW TO MAKE LEMON SNOWBALL COOKIES?
Preheat the oven to 350* and line two cookie trays with parchment paper
Using a large bowl beat the butter and powdered sugar until mixed thoroughly
Add in the lemon juice
In another bowl, whisk together the flour, lemon zest and the salt
Gradually add in the dry ingredients to the butter until it forms a dough
Use a scoop to place dough into your hand to roll it into a ball
Place the balls onto cookie trays
Continue until all the dough is used
Bake for 13 to 15 minutes
Allow to cool before removing them from the trays
Roll each cookie into the powdered sugar and set on cooling rack
When the cookie is completely cool, roll once more into the powdered sugar.
TIPS & TRICKS
Do not shovel flour out of the container with the measuring cup when measuring flour. Instead, whisk the flour until it is evenly distributed, then scoop it into your measuring cup and level it with the back of a knife.

Double-check your cookie measurements. Each cookie will only require roughly 1 spoonful of dough. It is convenient to use a tablespoon cookie scoop or a measuring spoon for this.

To make the cookies even more yellow, add 3-4 drops of yellow food colouring or food gel. This is purely a personal preference!

I find that using a cookie dough scoop makes it a lot easier to get uniformly sized cookies. As a result, the cookies will bake more evenly.

Wet your hands before shaping the dough balls. This keeps the dough from clinging together.

If you are going to dust the cookies with powdered sugar after they have been baked, do so after they have cooled slightly but are not fully warm. A little warm cookie holds the sugar better.

If you are trying to cut back on sugar, try substituting a sweetener like Stevia or Splenda for some of the sugar in this recipe. If you do not like these sweeteners, gradually reduce the amount of actual sugar you use until your taste receptors adjust.

To add fibre and protein to most recipes, simply replace half of the white flour with whole wheat flour. Because it produces a heavier dough, whole wheat pastry flour could be used instead for cookies, cakes, and other baked products.

Two to three tablespoons of lemon juice are found in the average fresh lemon (just in case you are substituting bottled lemon juice).

If you are constantly running out of lemon zest, buy some lemon extract and replace a half teaspoon with a tablespoon of zest.

The exquisite flavour of butter has made it a preferred cooking fat, but it is wise to note that butter has the least smoke point of practically any cooking fat. This means that butter begins to smoke at a lower temperature than most other fats, about 250-350°F. Thus, while butter is ideal for cooking at moderate temperatures, for frying and other high-temperature cooking, you should definitely use canola oil, coconut oil, or another oil with a higher smoke point.

Baking powder and salt should be mixed into moist components using an electric mixer.

Since lemon extract is considerably stronger and you do not need as much to obtain that delightful lemon flavour, I choose to use it. If you do not have any lemon extract on hand, I recommend purchasing a small bottle. It works well as a substitute for fresh lemon juice in glazes, and frostings.

You will add some all-purpose flour and a pinch of salt to the mix. Like I mentioned earlier, when measuring flour, spoon and level it rather than scooping it out of the container. If you shovel the flour from the container, it may become clogged in the measuring cup, resulting in an overabundance of flour. These cookies need just the proper quantity of flour to be soft and supple, not crumbly.

Lastly, forgo the powdered sugar coating if you plan to freeze the cookies. Freeze the cookies in containers divided by wax paper for up to four months. Place the frozen cookies on a rack to thaw. With the help of a sifter, dust them with powdered sugar.
FREQUENTLY ASKED QUESTIONS:
Can I make the dough ahead of time?
Yes, the dough can be made up to 2 days in advance. Keep it tightly wrapped and place it in the refrigerator.
How long can I keep these cookies?
The cookies will be good for up to a week. They can be kept at room temperature. If you store them in the refrigerator, they will not last. Once they are baked, they should not be placed in the refrigerator.
Can I freeze these cookies?
Yes, but once they thaw, you may want to roll them once more in the confectioner's sugar.
Cookies can be stored in a freezer bag or container for up to three months. Allow to defrost completely in the refrigerator before serving. Once the cookies have defrost, roll them in more powdered sugar if necessary.
What are lemon snowballs rolled in?
Lemon snowball cookies require a sweet upper layer to complement the tart lemon flavour. The cookies are rolled in powdered sugar for the perfect taste. Just make the cookies and roll them in the sugar to coat the outside.
Why powdered sugar instead of granulated sugar?
Powdered sugar, unlike granulated sugar, keeps cookies from spreading too much. Powdered sugar is commonly used in snowball cookies to make them thicker and rounder when baked.
Why do we roll these cookies twice in powdered sugar?
When you roll them in powdered sugar while they are still warm, the sugar melts into the butter in the cookies before they cool and stiffen, creating a soft, lovely, melty layer around them. Rolling the cookies in powdered sugar again after they have cooled and the butter has solidified gives them an even powdery exterior layer. When the cookies have cooled, the second roll coats them thoroughly and gives them a 'snowball' look. Much of the attraction of these cookies comes from the double layer of powdered sugar with two contrasting textures. If required, you can even roll them a third time!
Why do my snowball cookies go flat?
It is probable you did not use sufficient powdered sugar in your cookies. While baking, the powdered sugar ensures the cookies keep their shape. Or else, they will scatter and go flat.
It is also possible that the butter was excessively hot. It is important that the butter is softened, not room temperature softened.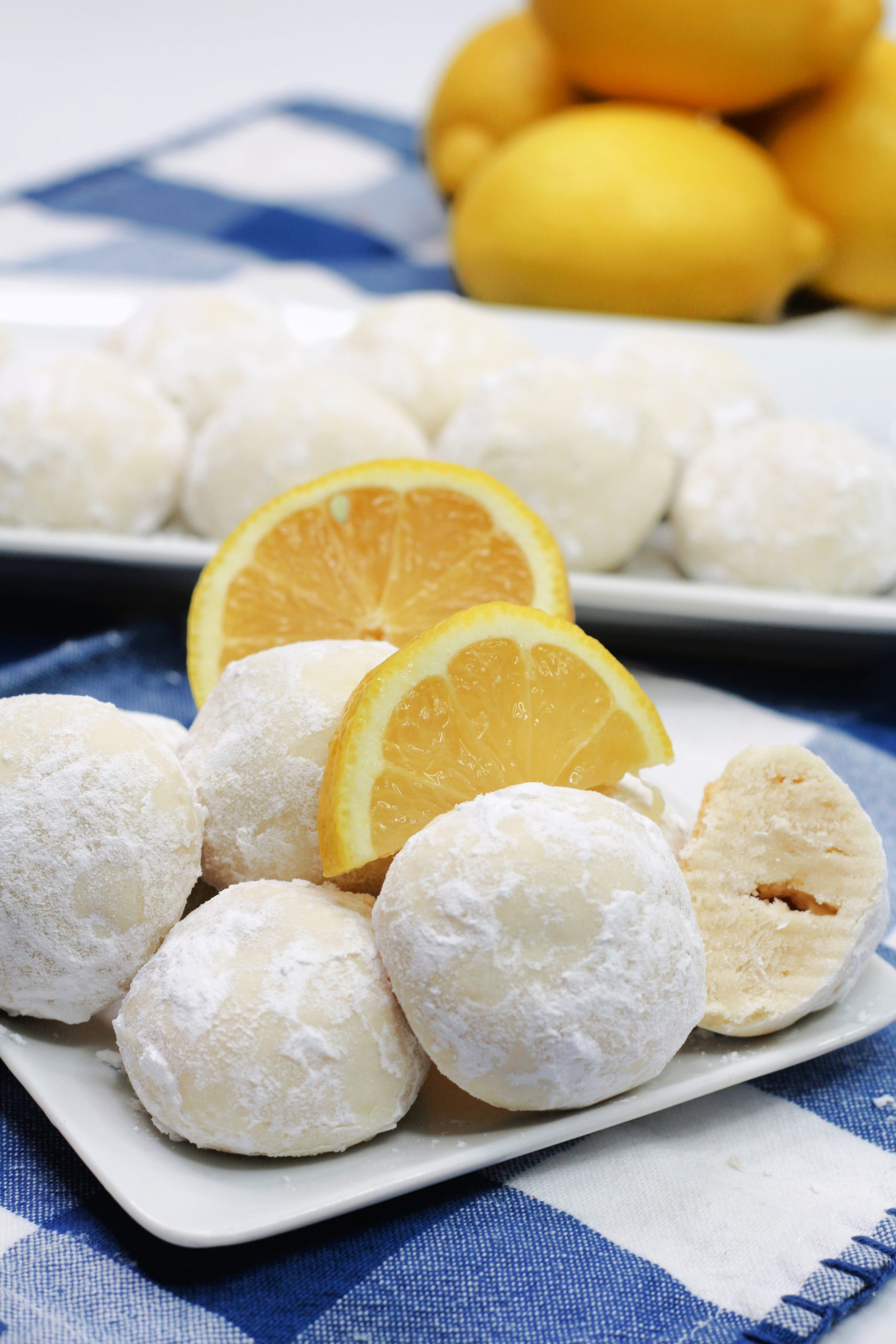 CONCLUSION
The use of a food processor to mix the lemon zest and sugar is unnecessary, but strongly recommended. When you mix the two together using a food processor, it releases additional lemon taste.
Rather than freezing the dough, refrigerate it for 2 to 3 hours. Refrigeration time can vary depending on the stickiness and suppleness of the dough, or it may not be required at all. The dough can be refrigerated or stored for later use.
Yield: 6
Lemon Snowball Cookies from Scratch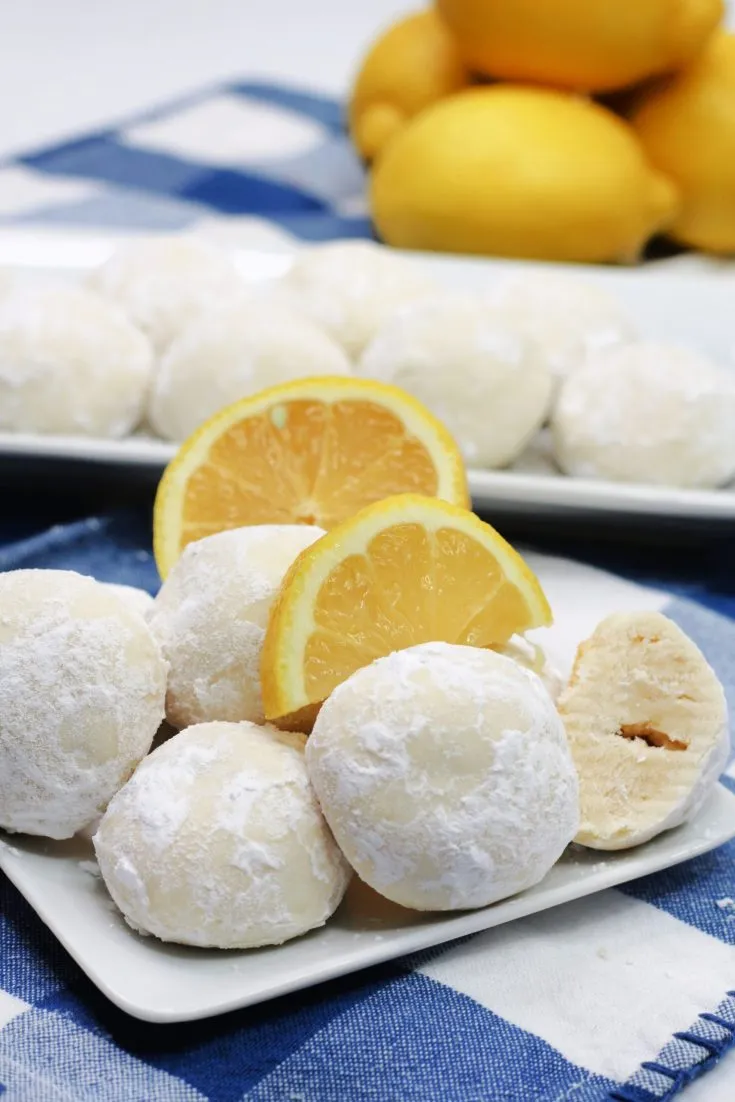 Ingredients
½ cup Powdered sugar, sifted
1 cup butter, unsalted and softened
1 tbsp lemon juice
1 tbsp lemon zest
¼ tsp salt
2 ¼ cups all purpose flour
¾ cup Powdered sugar for rolling
Instructions
Preheat the oven to 350*
Spray two cookie trays with nonstick spray or line with parchment paper
In a large bowl beat together the butter and the Confectioners sugar until mixed and creamy
Add in the lemon juice
In another bowl, whisk together the flour, salt and the lemon zest
Adding a little at a time, combine the dry ingredients into the butter mix until it forms a dough
Use a small scoop to get some dough and roll it into a ball
Put the cookie balls onto the cookie trays
When all cookies are placed on the trays, bake for 13 to 15 minutes
Cool slightly before removing from the trays
When half cooled, roll each cookie into the powdered sugar and set on the cooling rack
Once the cookie has cooled completely, roll once more in the powdered sugar.
Nutrition Information:
Yield:
6
Serving Size:
1
Amount Per Serving:
Calories:

532
Total Fat:

31g
Saturated Fat:

19g
Trans Fat:

0g
Unsaturated Fat:

10g
Cholesterol:

81mg
Sodium:

103mg
Carbohydrates:

59g
Fiber:

1g
Sugar:

23g
Protein:

5g