Crumb cakes are quite popular in Central Europe, particularly Poland and Germany, where there are numerous variations of this indulgent and delectable dessert. Many different cuisines have adopted it and incorporated local ingredients, such as the blueberry variant, which has been a long-time American favourite with its soft base and beautifully crumbly streusel. This delicious cake is easy to make and may be served as a dessert with whipped cream, vanilla ice cream, or on its own.
This is a fantastic way to use up any leftover blueberries or fruit from your garden. Blueberries can be used fresh or frozen. Set the fruit in a sieve and rinse it with cold water multiple times to achieve the latter. Strain the berries out on paper towels and wipe them dry when the water is somewhat clear, or pinkish. This procedure prevents the batter from becoming blue all over instead of only in a few spots.
Despite its appearance, this blueberry crumble cake is simple to make and just requires a little attention to our step-by-step directions. To make things easier, have all of your ingredients ready and metered before you begin.
CRUMBLE TOPPING INGREDIENTS
½ C unsalted sweet cream butter, cold and cut into cubes
1C flour
⅓ C light brown sugar, packed
⅓ C sugar
2 tsp ground cinnamon
CRUMBLE TOPPING DIRECTIONS
Using a large bowl, combined the four, brown sugar, sugar, and cinnamon
Using a fork or your fingers, work in the butter to create a crumbly mixture
Set aside
BLUEBERRY CRUMBLE CAKE INGREDIENTS
3 C flour
4 tsp baking powder
1/2 tsp kosher salt
1 C unsalted sweet cream butter, softened
1 1/2 C sugar
4 eggs
4 tsp pure vanilla extract
1/2 C sour cream
1 C buttermilk
4 C fresh blueberries
BLUEBERRY CRUMBLE CAKE DIRECTIONS
Preheat the oven to 350 degrees and spray a 9×13 with pam baking spray
Using a medium bowl, whisk together the flour, baking powder, and salt
Using a large bowl, beat the butter and sugar together until creamy and combined
Beat in the eggs, and vanilla until combined. Beat in the sour cream until combined
Alternating between the dry ingredients and the buttermilk, gradually beat in the two ingredients until combined
Fold in 2 1/2 C of the blueberries into the batter
Scoop the batter into the pan
Top the batter with an even layer of the crumble
Sprinkle remaining raspberries on top of the crumble
Place into the oven and bake for 50-60 minutes or until a toothpick comes out clean
Place the cake onto the counter and allow it to cool completely
HOW TO SERVE?
To serve, slice your crumb cake into 9 squares.

It is best to eat this cake while it is still warm.

This blueberry crumb cake recipe can also be made ahead of time, covered and refrigerated, and then reheated at 300F until warmed enough and served.

It can also be frozen! Cut it into equal slices, cover in wax paper, and freeze in an airtight container.

To reheat, wrap in a paper towel and microwave on high for 1 minute, or until thoroughly warmed.
TIPS AND TRICKS
Blueberries: This cake can be made with either fresh or frozen blueberries. If you are using fresh, make sure to fully wash it and let it air dry before adding the flour. Allow frozen berries to defrost slightly before draining any extra moisture. You can add an extra teaspoon or so of flour to help with the moisture if necessary.

Buttermilk: This adds the much-needed moisture and zest to the cake that we all enjoy. But, more importantly, it will interact with the baking soda and cause a chemical change that will result in the formation of air holes, making the cake light, airy, and melt in your mouth. If you do not have any buttermilk available, do not worry; it is easy to make with milk in minutes.

Lemon: The lemon juice and zest give the cake a lovely freshness. After carefully cleaning and drying the outside, juice your lemon. If you do not have a zester, a cheese grater with small holes will suffice. When you reach the white area of the peel or pith, stop zesting. This is frequently bitter and unfavourable. Use the same lemon you used for the frosting to make the juice.

Nuts: Add 14 cup minced pecans or walnuts to the crumble if you want the topping to have additional crunch.

Layer your baking sheet with parchment paper to make it easier to extract the cake from the pan and ensure smooth cake slices.

To prevent the blueberries from sinking to the bottom of the cake, lightly dust them with flour before adding them to the batter.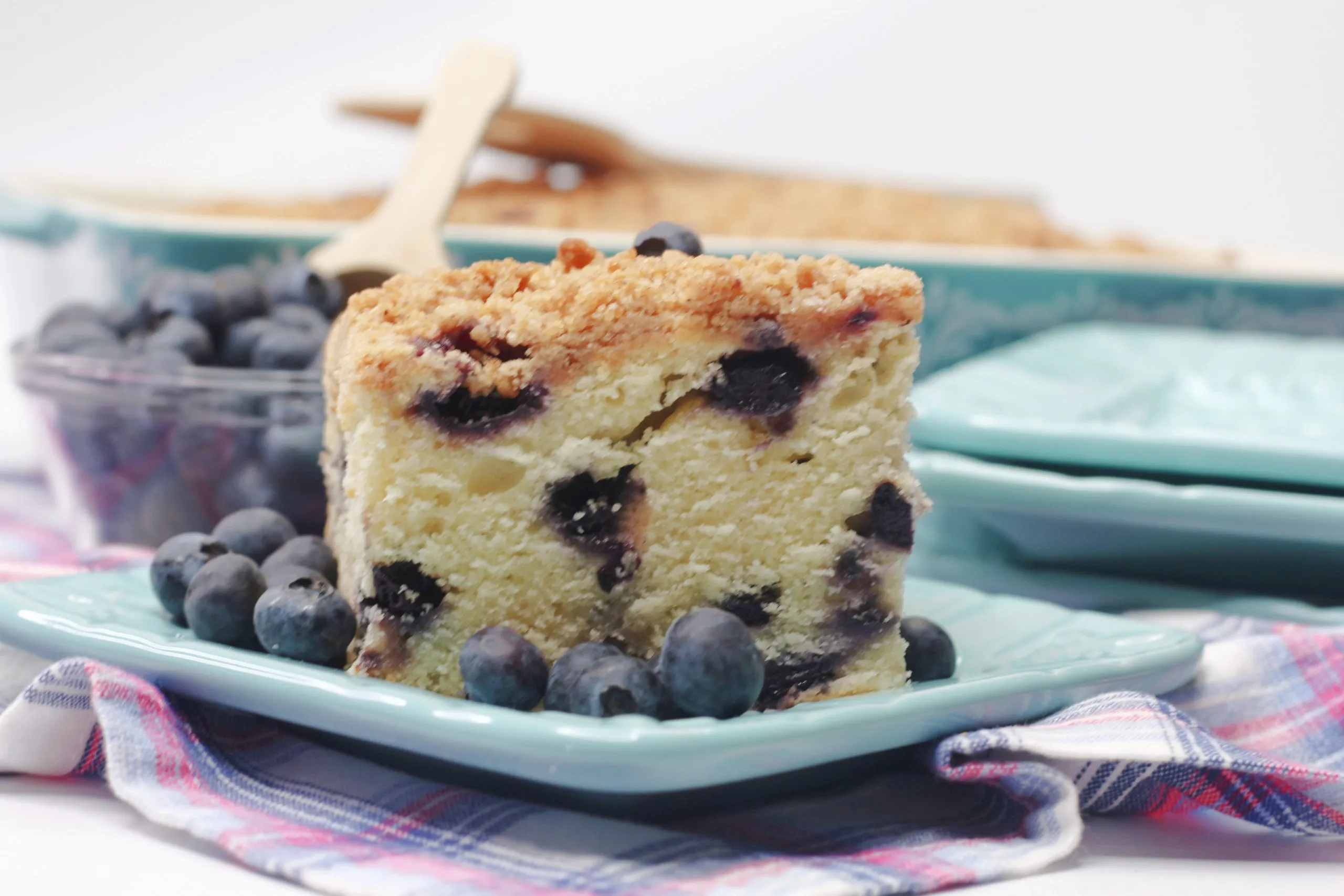 FREQUENTLY ASKED QUESTIONS
Can I freeze this recipe?
This blueberry crumble cake freezes beautifully. Wrap firmly in foil and freeze for up to two months in a freezer-safe container.
How do you differentiate between crumb cake and coffee cake?
The difference between a crumb cake and a coffee cake is the thick, hefty streusel topping. In certain recipes, the crumb topping might be nearly the same height as the cake itself, based on the size of the pan used. Also, the size of the crumb is bigger than that of a coffee cake, which is lighter and smaller.
Can I make Blueberry Crumb Cake with frozen blueberries?
I suggest using fresh blueberries for the best results. However, If you use frozen berries, let them defrost totally in the refrigerator before draining any excess liquids in a sieve. Place the drained berries between two layers of paper towels and pat dry with more paper towels. If preferred, swirl them with a little bit of flour before adding them to the batter to help eliminate a bluish color.
Is it necessary to refrigerate this recipe?
This cake does not need to be refrigerated. Simply wrap the pan in plastic wrap and store it in your pantry or on the counter.
Can you use frozen blueberries in place of the fresh?
Yes! This recipe can be prepared along with adding some frozen berries. Do not thaw them first; use them right from the freezer. Toss the frozen berries with the additional tablespoon of flour if desired.
What is the best way to store blueberry crumb coffee cake?
To prevent drying out, store the blueberry crumb cake at room temperature for 3 days, wrapped with plastic or foil.

Make it a day or two ahead of time, but refrigerate it for up to 4 days if you need to keep it longer.

Leftover cake freezes well. Wrap each portion of the recipe in foil firmly. Put them in a freezer bag and store them for up to three months. Before consuming, allow it thaw at room temperature.
What happens if I overmix?
The key to making this cake is not to overmix it, as this will result in a dense, stiff cake. Particularly when you are ready to add the blueberries. Over Stirring can colour the batter purplish-blue and cause the berries to disintegrate.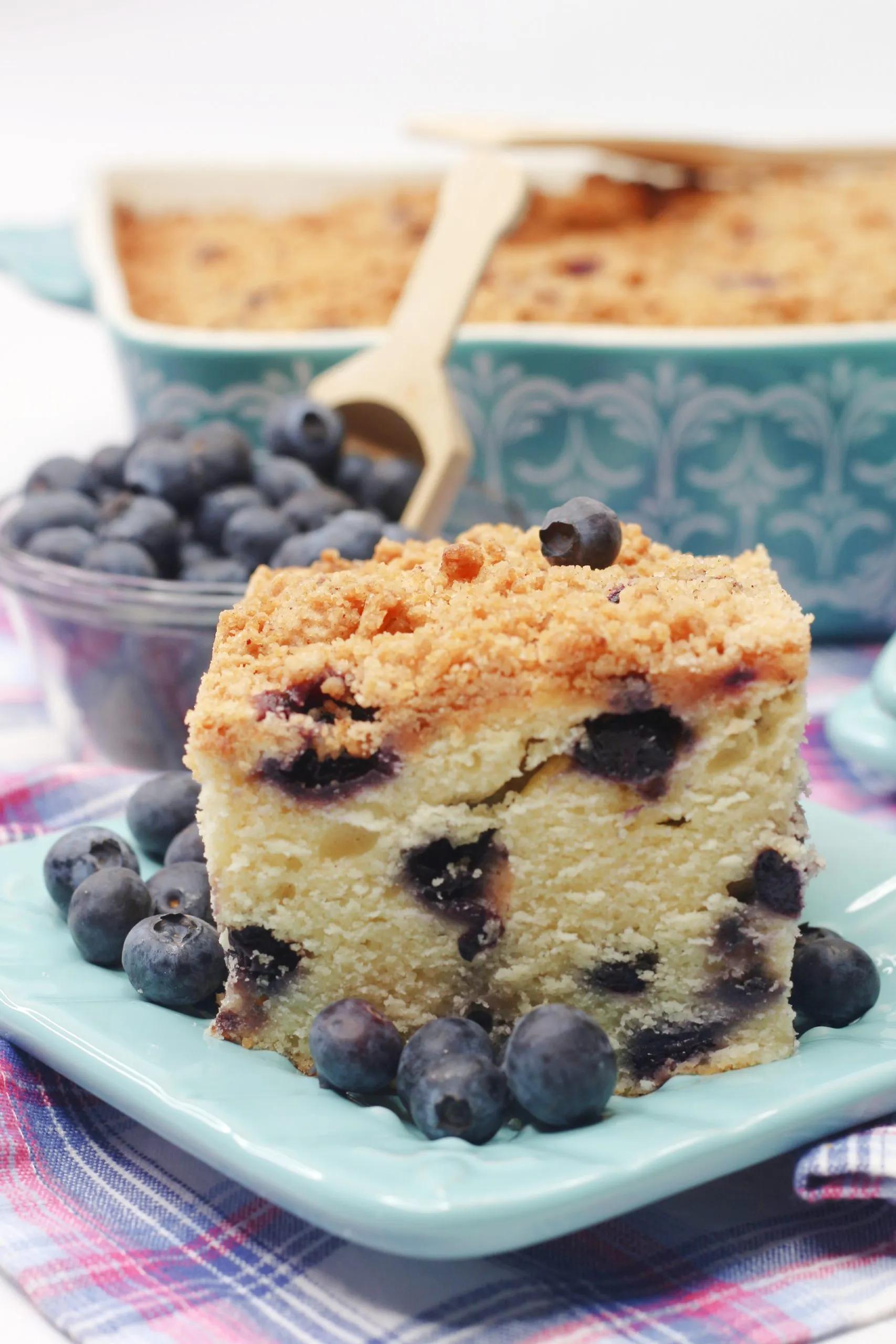 CONCLUSION
Blueberry crumb cake is versatile in that it can be served as a dessert, breakfast, or both. Cake for breakfast is a delectable incentive to entice everyone out of bed. It is a scrumptious treat whenever you desire to splurge, similar to coffee cake with its crumble top and pastry texture. However, whether you use fresh or frozen blueberries, each bite has a delicious rush of flavor.
Yield: 16
Melt in Your Mouth Blueberry Crumble Cake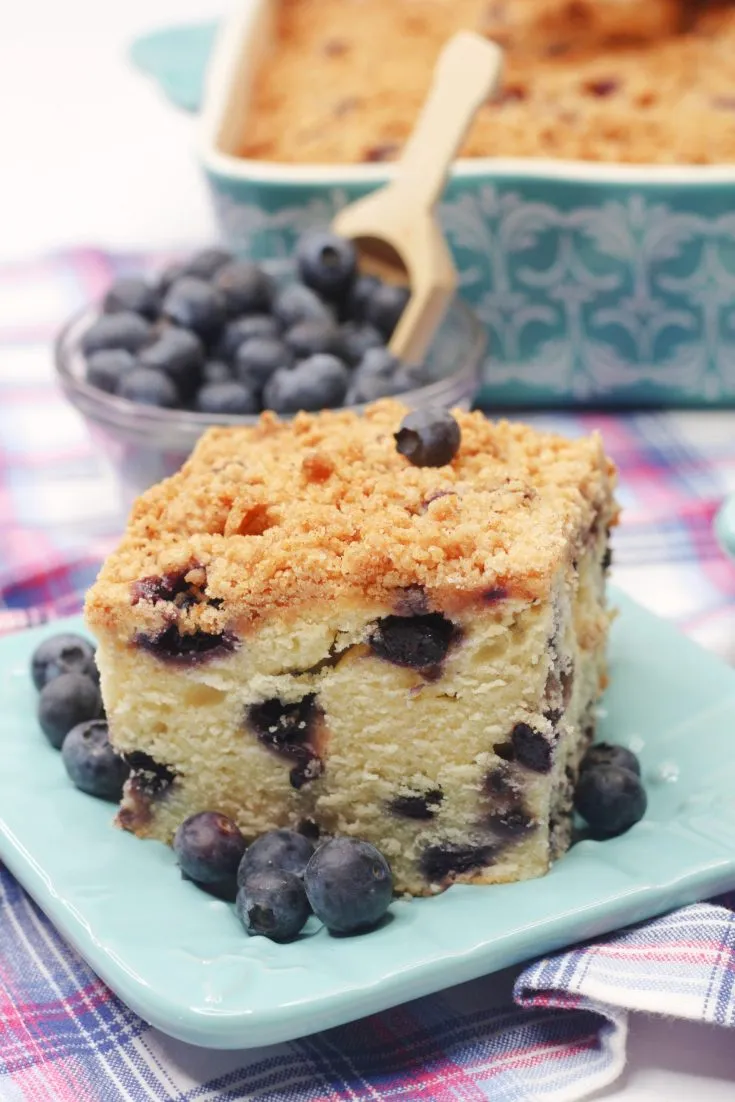 Total Time
1 hour
20 minutes
Ingredients
CRUMBLE TOPPING INGREDIENTS
½ C unsalted sweet cream butter, cold and cut into cubes
1C flour
⅓ C light brown sugar, packed
⅓ C sugar
2 tsp ground cinnamon
BLUEBERRY CRUMBLE CAKE INGREDIENTS
3 C flour
4 tsp baking powder
1/2 tsp kosher salt
1 C unsalted sweet cream butter, softened
1 1/2 C sugar
4 eggs
4 tsp pure vanilla extract
1/2 C sour cream
1 C buttermilk
4 C fresh blueberries
Instructions
CRUMBLE TOPPING DIRECTIONS
Using a large bowl, combined the four, brown sugar, sugar, and cinnamon
Using a fork or your fingers, work in the butter to create a crumbly mixture
Set aside
BLUEBERRY CRUMBLE CAKE DIRECTIONS
Preheat the oven to 350 degrees and spray a 9×13 with pam baking spray
Using a medium bowl, whisk together the flour, baking powder, and salt
Using a large bowl, beat the butter and sugar together until creamy and combined
Beat in the eggs, and vanilla until combined. Beat in the sour cream until combined
Alternating between the dry ingredients and the buttermilk, gradually beat in the two ingredients until combined
Fold in 2 1/2 C of the blueberries into the batter
Scoop the batter into the pan
Top the batter with an even layer of the crumble
Sprinkle remaining raspberries on top of the crumble
Place into the oven and bake for 50-60 minutes or until a toothpick comes out clean
Place the cake onto the counter and allow it to cool completely
Nutrition Information:
Yield:
16
Serving Size:
1
Amount Per Serving:
Calories:

448
Total Fat:

21g
Saturated Fat:

12g
Trans Fat:

1g
Unsaturated Fat:

7g
Cholesterol:

100mg
Sodium:

361mg
Carbohydrates:

60g
Fiber:

2g
Sugar:

33g
Protein:

6g