This soup is perfect for any weeknight dinner. It is loaded with Chicken, beans and corn with homemade tortilla strips. It makes a very filling meal on its own.
This is a very comforting and warming soup. This dish will come together in one pan, which helps keep cleaning up easily. The easiest way to phrase this is that it is a liquid taco, only better.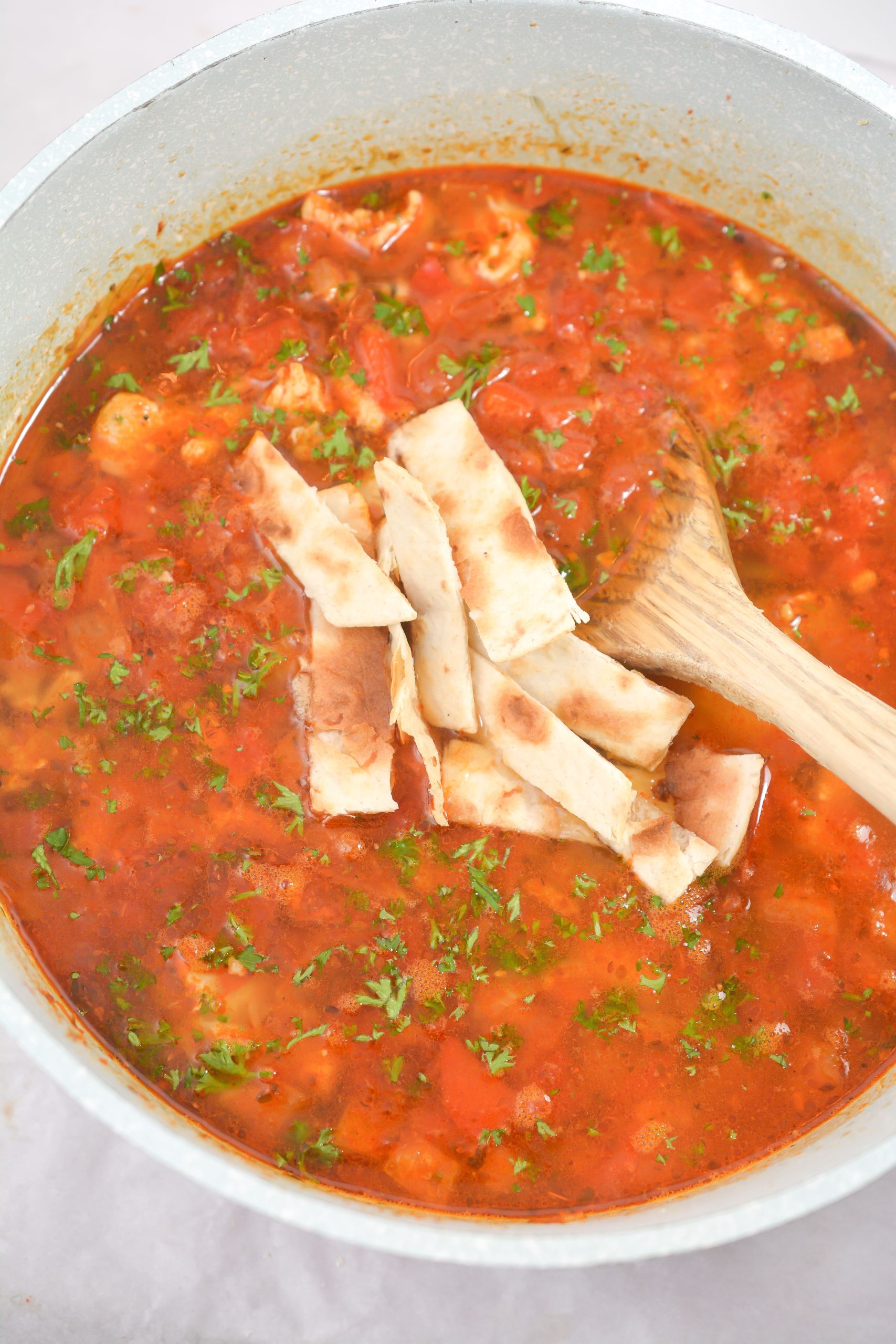 Chicken Tortilla Soup is perfect for Mexican night when it is cold and dreary outside. It will bring the family running when they catch a waft of the delicious aroma.
When you are ready to serve this soup, you may want to top it with sour cream, shredded cheese, crispy tortilla strips or even jalapeno slices.
Frequently Asked Questions:
How should I store this soup?
Chicken tortilla soup should be allowed to cool completely before being placed in a tightly sealed container and then in the refrigerator. The soup can also be ice frozen and kept in the freezer for up to two months.
How do I store the extra Tortilla Chips?
The extra Tortilla Chips can be stored in a Ziploc bag on the counter for up to 5 days.
Can I prepare chicken tortilla soup in a slow cooker?
I am not sure you would want to because this soup is actually quick to make. To create chicken tortilla soup in a slow cooker, however, follow these instructions:
In the slow cooker, set the chicken thigh or breast.

Add your cumin, salt, and pepper to taste. Put the minced onions, red pepper, garlic, tomatoes, corn, Broth, etc., in a large mixing bowl.

Stir everything together, cover the slow cooker, and cook on low for 6 hours or high for 3 hours.
What are the nicest chicken tortilla soup toppings?
The only thing that improves the richness of Chicken Tortilla Soup is the toppings. Some people choose to make this soup light by omitting the cheese and sour cream but feel free to play and add any toppings you like. You can't go wrong with this! Just remember to include the tortilla strips!
THE INGREDIENTS YOU NEED TO MAKE CHICKEN TORTILLA SOUP
One of the best things about this chicken tortilla soup recipe is how adaptable it is. Listed below are the ingredients for the soup, but you can swap or leave out any of them to suit your family's tastes.
2 tbsp butter, unsalted

½ onion, white, chopped

½ red bell pepper, chopped

2 jalapeno peppers

2 tsp garlic, minced

1 tsp cumin

1 tsp paprika

1 tsp oregano

½ tsp chili powder

1 tbsp lime juice

One can Rotel diced tomatoes with chilis, undrained

3 cups Chicken, cooked and shredded

5 cups Chicken Broth

Salt and pepper to taste

1 large or 2 small low carb tortillas
HOW TO MAKE CHICKEN TORTILLA SOUP
It is as simple as A, B, and C to make this tortilla soup! It only takes about 30 minutes to cook, but much of that time is spent watching the soup boil!
Here is how to make chicken tortilla soup in a nutshell:
Melt the butter in a pot over medium heat.
Add the onions, peppers and jalapenos to the pot and saute until softened.
a)
b)
c)
Stir in the minced garlic, chili powder, cumin, paprika, oregano, lime juice and salt and pepper.
a)
b)
c)
d)
e)
Mix in the Rotel and the shredded Chicken. Stir to combine well.
a)
b)
Spew in the chicken broth, decrease the heat to a simmer and put a cover on the pot. Simmer for 20 minutes.
Heat the oven to broil and place the tortilla on a baking sheet. Flip the tortilla a few times until it is browned lightly.
Cut the tortilla into strips.
Serve the soup with strips of tortilla on top.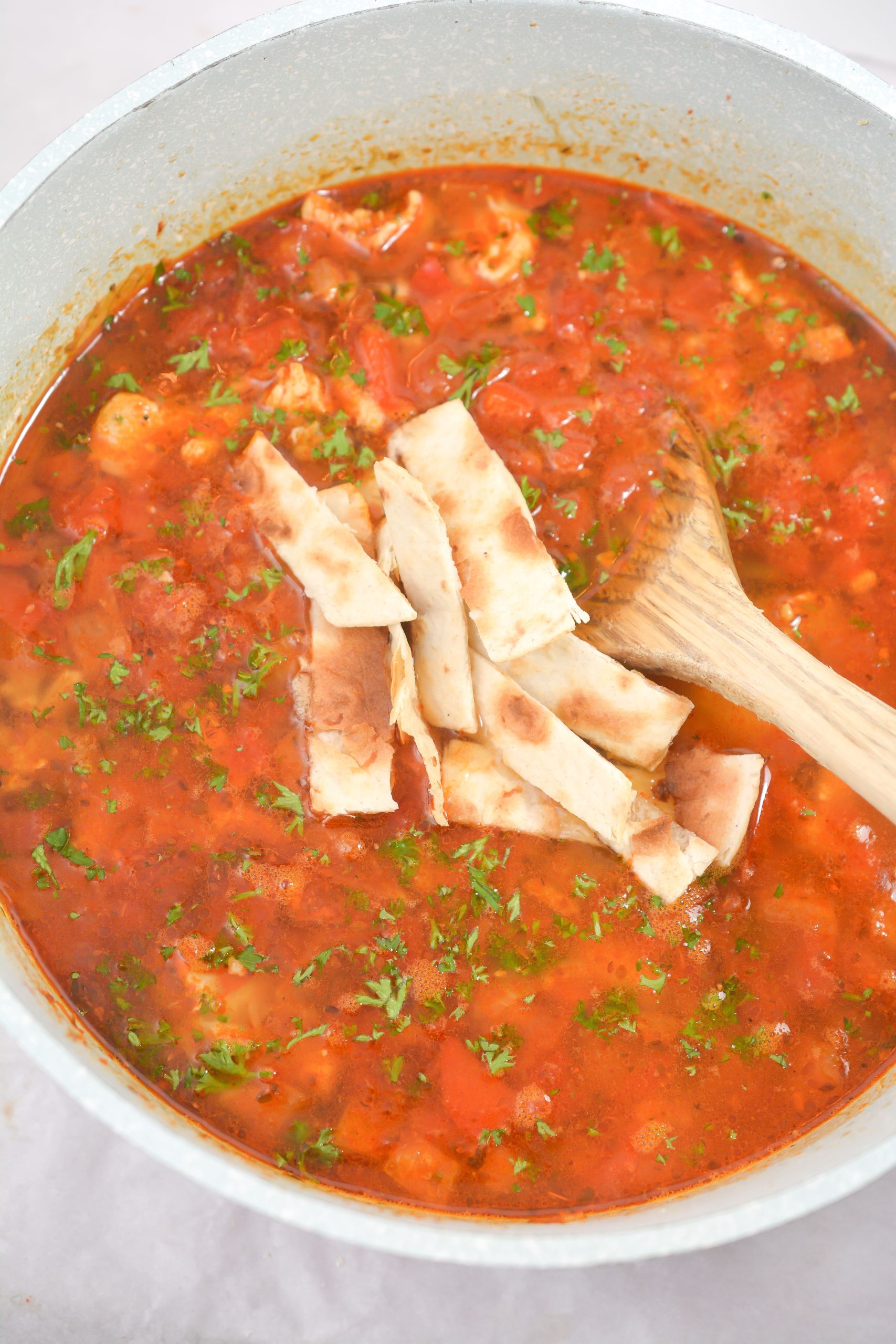 Expert Tips
Use leftover chicken:

To save a step and time, use boiled leftover chicken. People frequently make chicken tortilla soup with leftover grocery-store rotisserie chicken.

Control the sodium:

Reduce the sodium content of this recipe by using low-sodium vegetable or chicken broth. This way, you can manage the amount of sodium in your soup.

Tweak the spices

: If you want a spicy soup, add diced jalapeno to the onions and peppers while they are cooking. To amp up the spiciness, toss in a sprinkle of red pepper flakes.

Season to taste:

The salt may need to be adjusted based on the Broth you use. Taste the soup at the completion of the cooking process to see if it needs more salt.

Toppings:

Sliced avocados, cilantro, grated cheese, crunchy tortilla strips, and/or a dab of sour cream can all be added to your soup.
Ideas for toppings:
Minced cheese

– Top your soup with minced Mexican cheese. The cheese melts and becomes delectable.
Greek yogurt or sour cream

– A dab of sour cream in your soup or Greek yogurt will also add a great richness to this soup.
Tortilla chips or strips

– Shredded tortilla chips or strips are one of our favorite garnishes to use. It adds the perfect amount of crispness to the soup!
Green or red onions –

For a flavor boost, add a handful of green or red onions.
Lime juice –

The addition of a squeeze of lime to this soup recipe is the ideal finishing touch!
How do I thicken chicken tortilla soup?
A thin spicy broth is typically used in chicken tortilla soup. You may thicken the soup in a number of ways if you want it to be thicker:
More ingredients could be added to make the Broth rely solely on the ingredients.
Add a thickening agent such as a roux, cornstarch or masa to thicken the soup.
Lastly, if you don't want to add more carbs and calories to the soup, you can let it simmer down naturally to thicken the Broth.
How do I spice up my chicken tortilla soup?
It is simple to adjust the spice level in tortilla soup. Add a spicier taco mix to vary things up. Use a light spice combination if you want less spice, but a mediocre hot spice blend if you want more. Using hot peppers is another method of adding heat to chicken tortilla soup. You can also add a sprinkle of cayenne pepper, depending on how hot your family prefers it.
Furthermore, diced jalapenos are an excellent addition to any soup dish, both on top of and within it. A pinch of chili powder can also be added to the dish to provide some spice without losing flavor. Last but not least, get out the jar of hot sauce and squirt a splash on top of your chicken tortilla soup.
What is the origin of this soup?
The origins of this delicious soup are unknown, but its substitute name, "SOPA Azteca," may provide some insight. The name means "Soup of the Aztecs" in English, implying that its roots may be linked to the ancient Aztec civilisation. It's possible that the soup came from these states because the Aztecs lived mostly in the central and southern parts of Mexico.
However, there are contradicting claims that attribute the origin of this delectable soup to the state of Tlaxcala. This state is close to Mexico City, which is where this soup is most renowned nowadays. Whatever the exact origins of this soup were, it was a blending of ancient cultures with the advent of the Spanish that gave it its contemporary form and helped it stretch across the country.
This soup is now popular in Mexico and the United States. It's a common pick in Southern California and other Mexican-influenced border areas. It is most well-known in Mexico City, despite being widely available in its home country. If you're seeking an ideal and authentic place to enjoy this wonderful soup, make a point of ordering a bowl the next time you're in Mexico City.
Conclusion
Without a tortilla, a Mexican is like a flower vase without flowers! It's a component of their meals and dishes, and it reminds them of home. Tortilla soup is one of Mexico's most popular recipes; it's easy to make, oh-so-satisfying yet! Tortilla Soup evokes memories of wonderful family meals, pleasant moments, and a warm feeling of home for me, as it does for many other Mexicans.
Yield: 6
Not So Ordinary Chicken Enchilada Soup
Ingredients
_ ½ white onion, diced
½ red bell pepper, diced
2 jalapeno peppers, seeded and diced
2 tsp freshly minced garlic
2 tbsp butter
1 tsp cumin
1 tsp paprika
½ tsp chili powder
1 tsp oregano
1 tbsp lime juice
1 can Rotel diced tomatoes with green chilis, do not drain
5 cups chicken broth
3 cups chicken, cooked and chopped
2 to 3 tortillas
Instructions
In a large stock pot melt the butter
Add in the onions, the jalapenos, the bell pepper and saute until softened
Stir in the minced garlic, chili powder, cumin, paprika, oregano, lime juice and salt and pepper to taste
Pour in the can of Rotel with the juice, stir
Add in the cooked and chopped chicken, stir to combine
Pour in the chicken broth , lower the heat to simmer and cover the pot
Simmer for 20 minutes
Lightly broil the tortilla, flipping the tortilla a few times, brown the tortilla lightly
Cut the tortilla into strips
After 20 minutes remove the soup from the heat and ladle into serving bowls
Top with strips of crispy tortilla
Nutrition Information:
Yield:
6
Serving Size:
1
Amount Per Serving:
Calories:

298
Total Fat:

15g
Saturated Fat:

5g
Trans Fat:

0g
Unsaturated Fat:

8g
Cholesterol:

78mg
Sodium:

1248mg
Carbohydrates:

20g
Fiber:

2g
Sugar:

2g
Protein:

21g