Whenever I think about baking, citrus fruits are among the first things that come to mind. And, as much as I enjoy grapefruit and limes, I can not help but prefer lemons. The vivid lemon flavour, particularly in the combination of lemon poppy bars, is a favourite in our kitchen!
Lemon taste is the nicest part about these bars. Freshly squeezed lemon juice and zest are used in the bars as well as the glazing to give this treat as much lemon flavour as possible.
These bars have a smooth, chewy texture that we like in cookies and are baked just until the edges start to turn a light golden brown. However, if you prefer a cake-like texture, simply bake them for a few minutes longer.
A simple confectioner's sugar glazing balances out the sharpness of the lemon and makes these cookie bars utterly tempting!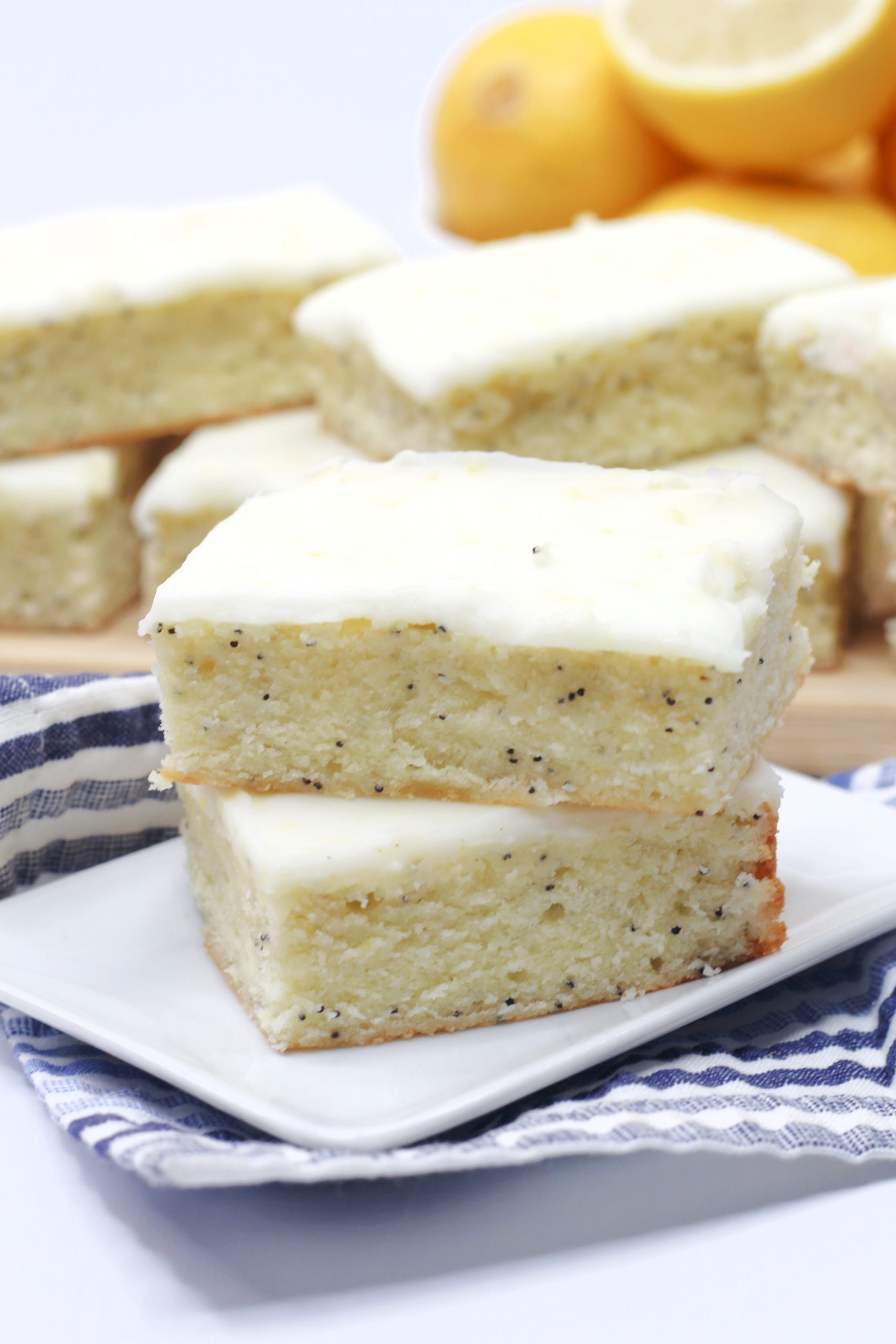 WHAT DO YOU NEED TO MAKE LEMON POPPY BARS
Here is the list of all ingredients you will need. To get accurate proportions and directions, read the complete recipe below. For the best results, follow the recipe exactly as described.
1 C unsalted sweet cream butter softened
1 1/2 C sugar
4 large eggs
2 tbsp fresh squeezed lemon juice
1/2 tsp kosher salt
2 large lemons zested
1 1/2 C flour
1 tbsp poppy seeds
Glaze Ingredients:
1 C powdered sugar
2 tbsp lemon juice
2 large lemon zested
HOW TO MAKE LEMON POPPY BARS
Preheat the oven to 350 degrees and line a 9×13 baking dish with parchment paper
Using a large bowl and hand mixer, beat together the butter, sugar, eggs, lemon juice, and lemon zest
Using a medium bowl, whisk together the flour and salt until combined
Gradually beat in the dry ingredients
Fold in the poppy seeds until combined
Pour the batter into the baking dish and bake for 22-25 minutes or until the sides start to brown
Allow to cool for 15 minutes
Using a medium bowl, whisk together the powdered sugar, lemon juice and lemon zest
Pour the glaze over the bars and spread evenly
Allow the glaze to harden before cutting into bars and enjoying
TIPS AND TRICKS
Since the flavour of these bars is heavily reliant on lemons, we recommend using fresh lemon juice whenever possible. The convenience of store-bought bottles is great, but you are missing out on a lot of natural flavours!

Using parchment paper to line the pan makes it easier to remove the bars, cut and serve them.

Once you have poured the batter into the pan, smooth it out to ensure that the bars are evenly thick.

As everything melded together the next day, I discovered that I liked the flavour even more. So, if you want to bake anything ahead of time, these bars are ideal!

Set the lemon topping aside before cutting into bars and serving.

Use a sharpened or straight knife to cut the lemon bars. To get perfect squares, clean the knife after each cut.

Keep the lemon bars refrigerated.
STORAGE
There is no need to refrigerate lemon bars if you are going to eat them within a day or two of making them. Simply stack the bars in a sealed container, using a sheet of parchment or wax paper to separate each layer.
Lemon bars, on the other hand, may certainly be made ahead of time and are perfect for that. Simply place the sealed container in the refrigerator for up to a week.
And Yes, you can also freeze lemon bars if you plan to keep them for a longer period of time. Cut the chilled bars into parts (without the powdered sugar topping) and cover in plastic wrap and aluminum foil.
Remove them from the freezer the day before you plan to serve them and let them defrost in the fridge overnight. Immediately before dishing, dust with powdered sugar.
FREQUENTLY ASKED QUESTIONS
Do I have to refrigerate these cake bars?
Since there is nothing in the ingredients that will cause the recipe to spoil quickly, these Lemon Poppy Bars do not need to be stored in the refrigerator. However, for an extended shelf life, it is advisable that you keep it refrigerated. Cover them snugly in plastic wrap or place them in a sealed container to keep them fresh.
Can I use bottled lemon juice?
If you do not have fresh lemon juice, you can substitute bottled lemon juice in this recipe. Fresh lemon juice, on the other hand, will always boost the flavour far more than manufactured lemon juice. However, you may purchase 100% lemon juice in a bottle, though fresh is almost always preferable.
How do I store the poppy seeds?
Poppy seeds can be kept in a tightly sealed container in the refrigerator for up to a year. Poppy seeds that have been exposed to the air grow wet and mildew quickly. So, either buy only what you need for cooking/baking, or keep them covered and refrigerated until you need them.
How do I know when the bars are done baking?
Lemon bar filling might be a little challenging at times! Even though it is supposed to be sticky and gooey, it is sometimes difficult to know when it is done.
If the filling appears loose, sloppy, or too liquid when you look at your bars after the prescribed bake time, give them a little more time. However, when the edges of your lemon bars begin to turn golden and the filling has set and is no more wobbling in the centre, you know they are done.
How do I cut the perfect lemon bars?
While cutting the bars, keep a bowl of warm water handy to ensure flawless cuts. Make each cut after dipping the knife in warm water and drying it with a dry hand towel. Continue until all of the lemon bars have been cut.
How do I keep the bars from sticking to the pan?
I discovered a couple tricks for keeping the lemon bar crust from sticking to the pan. First and foremost, prepare the pan by lining it with parchment paper. Also, foil can be used. Make sure there is enough parchment paper sticking out of the sides to act as a grip when removing the lemon bars from the pan.
Why do my lemon bars have air bubbles?
When baking lemon bars, air bubbles are quite normal. The trapped air bubbling to the surface is what these faint white bubbles are. If there are any air bubbles in your lemon bars, a coating of powdered sugar can readily hide them.
CONCLUSION
The glaze, in my opinion, determines how excellent a lemon dessert is. Glazes are only for bars, and this one – powdered sugar and lemon juice – is so easy to make that you will want to apply it on everything. It gives these chewy lemon bars just a hint of sweetness and acidity.
Whatever you decide to do for the big game, I am sure these lemon bars will make everyone happy! With one of these bright, delicious delicacies in their hands, how could anyone be unhappy? Cheers!
Yield: 16
Popular Lemon Poppyseed Bars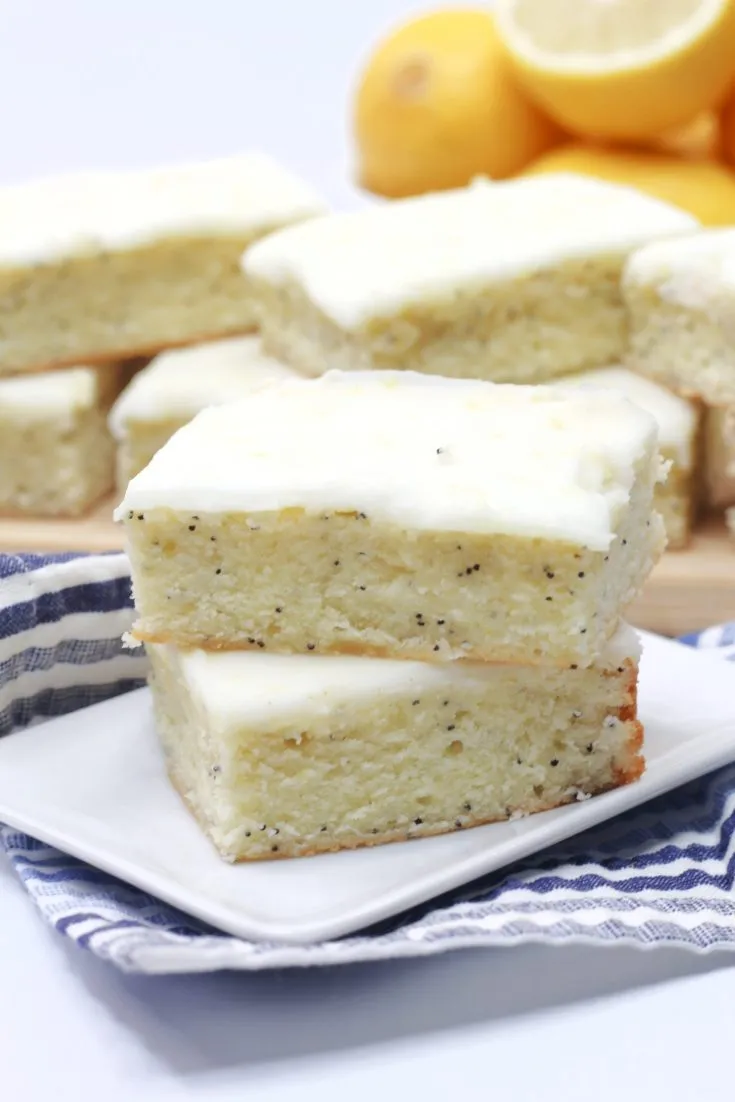 Ingredients
1 C unsalted sweet cream butter softened
1 1/2 C sugar
4 large eggs
2 tbsp fresh squeezed lemon juice
1/2 tsp kosher salt
2 large lemons zested
1 1/2 C flour
1 tbsp poppy seeds
Glaze Ingredients:
1 C powdered sugar
2 tbsp lemon juice
2 large lemon zested
Instructions
Preheat the oven to 350 degrees and line a 9×13 baking dish with parchment paper
Using a large bowl and hand mixer, beat together the butter, sugar, eggs, lemon juice, and lemon zest
Using a medium bowl, whisk together the flour and salt until combined
Gradually beat in the dry ingredients
Fold in the poppy seeds until combined
Pour the batter into the baking dish and bake for 22-25 minutes or until the sides start to brown
Allow to cool for 15 minutes
Using a medium bowl, whisk together the powdered sugar, lemon juice and lemon zest
Pour the glaze over the bars and spread evenly
Allow the glaze to harden before cutting into bars and enjoying
Nutrition Information:
Yield:
16
Serving Size:
1
Amount Per Serving:
Calories:

278
Total Fat:

13g
Saturated Fat:

8g
Trans Fat:

0g
Unsaturated Fat:

4g
Cholesterol:

77mg
Sodium:

150mg
Carbohydrates:

38g
Fiber:

1g
Sugar:

28g
Protein:

3g