If you're like most people, your home is your most significant investment. So, when it comes time to renovate, you want to be sure that you are getting the most bang for your buck. That's why we've put together this simple guide to renovating your bathroom on a budget. You can have the bathroom of your dreams with careful planning without breaking the bank.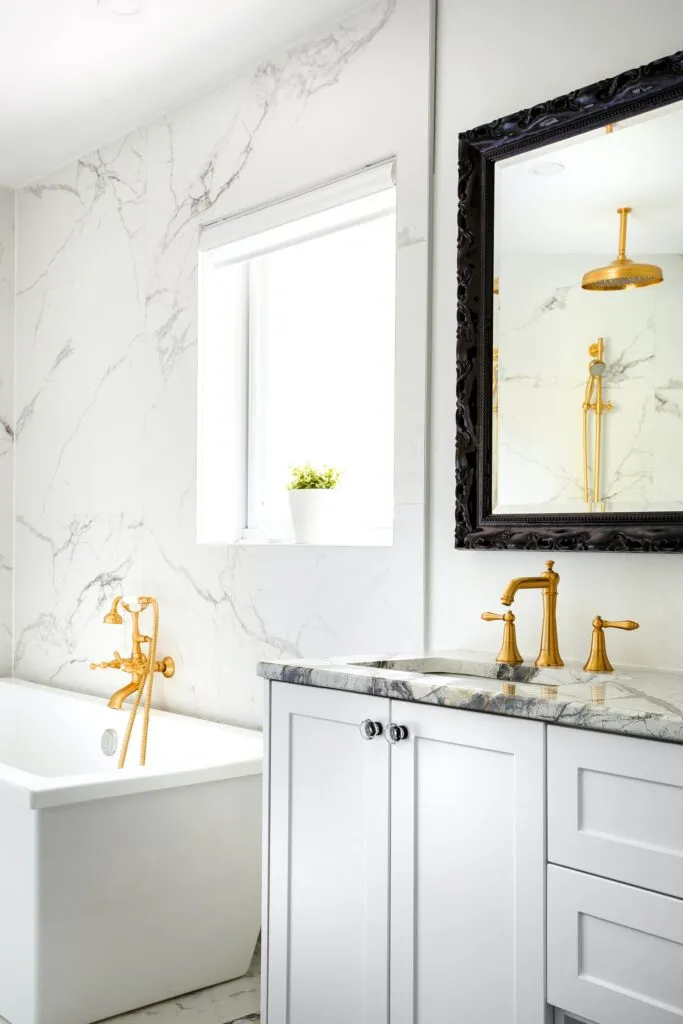 First, Let's Talk about Budgeting
When it comes to home renovations, there are two types of costs: fixed costs and variable costs. Fixed costs are the same no matter how big or small your project is. These include things like permits, materials, and labor. Variable costs, on the other hand, vary depending on the size and scope of your project. These include things like fixtures, finishes, and furnishings.
When creating your budget, include both fixed and variable costs so you have a realistic idea of what your project will cost. Once you have a budget, stick to it! It's easy to get caught up in the excitement of a renovation and go over budget. But trust us, you'll thank yourself later when you're not shelling out thousands of dollars more than you anticipated.
Next, Let's Talk about Planning
A successful renovation requires careful planning. You'll need to decide on a style for your new bathroom, choose materials and fixtures that fit your budget, and develop a timeline for the project. Trying to do too much at once can quickly become overwhelming, so taking things one step at a time is important.
Creating a plan will help ensure that your renovation goes smoothly, stays within your budget, and meets your expectations without any surprises along the way. These steps may seem like a lot of work, but going through them before you start your project will save you time, money, and headache in the long run.
Define the scope of your project
What do you hope to accomplish with your renovation? Do you want to update your fixtures and paint the walls, or are you planning a more extensive undertaking involving moving plumbing and electrical lines?
Having a clear picture of what you want to achieve will help you make decisions throughout the renovation process.
Choose a style
What kind of look are you going for? Do you want a modern bathroom with sleek lines and an open floor plan, or are you more traditional, preferring classic fixtures and plenty of storage space? Gather inspiration from magazines, online sources, and friends' homes to help you choose the perfect style for your bathroom.
And don't forget, your bathroom doesn't have to match the rest of your home. If you have a more traditional style home but want a modern bathroom, go for it! The most important thing is creating a space that you love and reflects your taste.
Start planning your layout
Once you know what you want to achieve, which style you'll go for, and how much you can spend, it's time to start planning your layout. If you're working with a small space, there are ways to make it appear larger with mirrors and strategic lighting. If you have a large bathroom, you may consider creating separate areas for different activities, like a dressing area, make-up counter, or reading nook.
Regardless of your bathroom size, be sure to plan for plenty of storage. This is often one of the biggest challenges in small bathrooms, but even larger bathrooms can benefit from extra storage space.
Think about your fixtures and finishes
Fixtures include things like your sink, toilet, bathtub, and shower. Finishes are the smaller details that add style to your bathroom, like cabinet hardware, towel bars, and light fixtures.
Choosing fixtures and finishes that fit your budget is important, but be sure to select products that will stand the test of time. Inferior products may be cheaper upfront, but they will likely need to be replaced sooner, costing you more in the long run.
Develop a timeline
Creating a timeline for your project will help ensure that it stays on track and is completed on time. If you're doing the work yourself, be realistic about how long each task will take and build some cushion for unforeseen delays.
If you're hiring a contractor, they should be able to give you a detailed timeline for the project. Make sure that you understand and agree with the timeline before work begins.
Get everything in writing
This is perhaps the most important step in planning a successful renovation. No matter how well you think you know your contractor, it's always best to get everything in writing. This includes a detailed estimate of the cost of materials and labor, as well as a contract that outlines the scope of work and timeline for the project.
Making sure that all of the details of your renovation are spelled out upfront will save you a lot of hassle (and potential legal problems) down the road.
Finally, Let's Get to Work!
Once you've got your budget and plan, it's time to start renovating! Depending on the scope of your project, you may be able to do some of the work yourself. If you're doing the work yourself, take things slow and steady. Rushing through a renovation will likely result in mistakes that will cost you more money in the long run.
DIY-proof your project
If you're not sure how to do something, don't be afraid to ask for help. Many resources are available, including books, websites, and even classes at your local home improvement store.
Just because you're doing the work yourself doesn't mean you have to do it all yourself!
When in doubt, ask a professional. If you're uncomfortable doing something (like electrical work), it's always best to leave it to the experts. Not only will this ensure that the job is done right, but it will also help you avoid any potential injuries.
Hiring a contractor
If you're hiring a contractor, be sure to do your homework. Make sure they are licensed and insured and get plenty of references. Interviewing different contractors and getting bids from several companies before making your final decision. Be sure to ask for (and check) references and get everything in writing before work begins.
Check in regularly
Even if you're not doing the work yourself, it's important to stay involved in the project. Check in with your contractor regularly to ensure that the work is on schedule and that the quality meets your standards.
No matter how well you plan, there's always the potential for things to go wrong. By staying involved in the project, you can help to ensure that any problems are dealt with quickly and efficiently.
Conclusion
Renovating your bathroom can be daunting, but with careful planning and some elbow grease, you can do it on a budget. Planning your bathroom renovation carefully will result in a successful project that you can enjoy for years to come. Following these simple tips can avoid common mistakes and ensure your bathroom renovation is a success.