Can you imagine my excitement when I heard about these cookies? You all know that lemon and I go together like Peanut Butter and Jelly, so coming across a cookie recipe that includes lemon? That is definitely a plus in my recipe book. Do I need to mention that these are also oatmeal cookies? Wow! Two favorites in one delicious food, lie cannot get much better than this!
Honestly, I do have to admit that I would not have considered lemon and oatmeal together in a cookie. Surprisingly, I wish I would have years ago! The flavor combination is absolutely amazing! This is a treat that I would love to keep on hand in my house all the time! If my waist could deal with them, that is!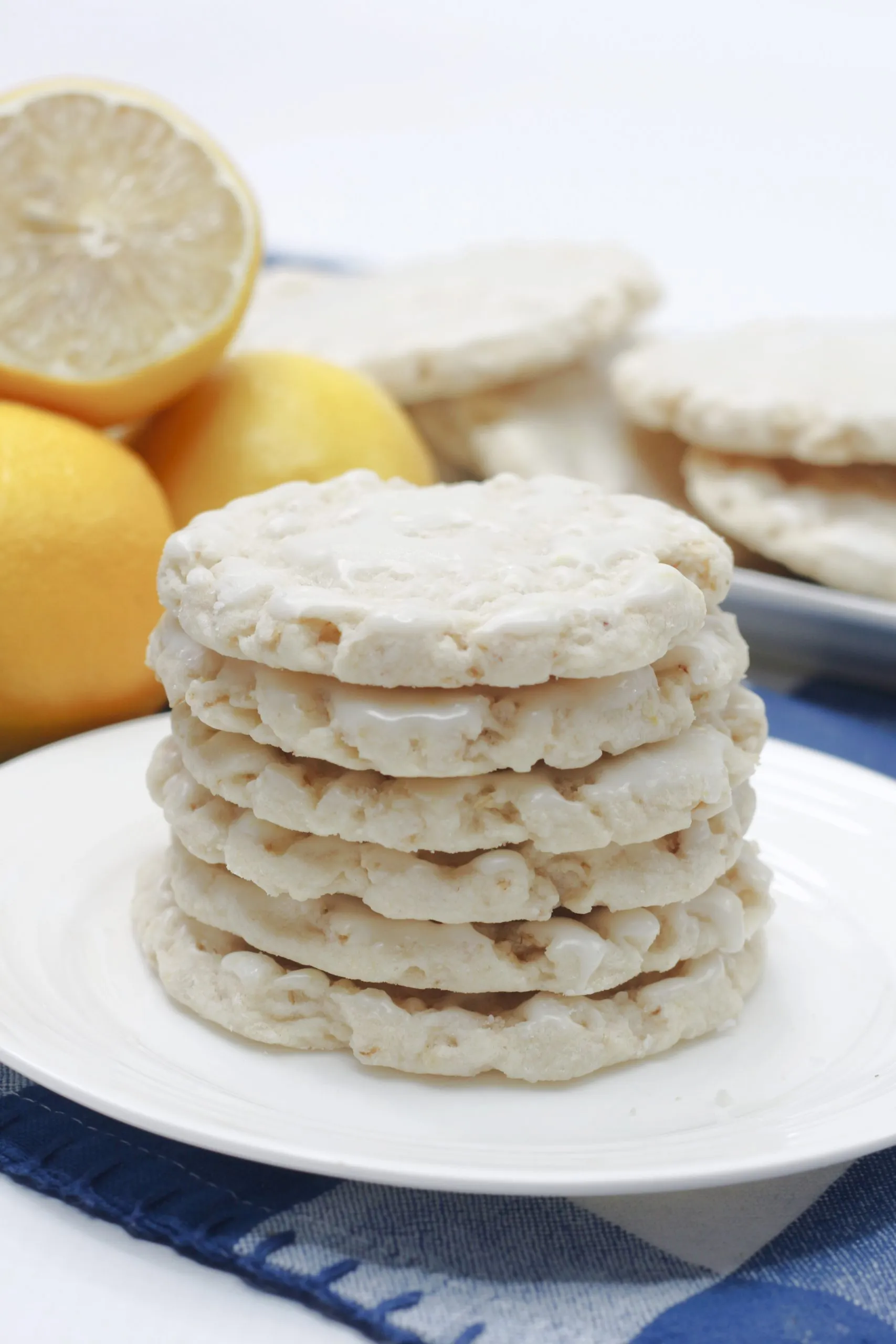 WHAT DO YOU NEED TO MAKE LEMON OATMEAL COOKIES
⅓ cup granulated sugar(for pressing the cookies)
1 ½ cups Old Fashioned Oatmeal
1 large lemon zested
2 tbsp lemon juice
1 cup flour
¾ tsp baking soda
¼ tsp salt
1 cup butter, unsalted and room temperature
1 cup sugar
Glaze:
½ cup confectioner's sugar
3 tbsp lemon juice
2 tbsp lemon zest
HOW TO MAKE LEMON OATMEAL COOKIES?
Preheat the oven to 350*.
Line baking sheets with parchment paper.
Using a medium bowl, combine the flour, salt and baking soda and whisk to combine.
With a stand mixer, beat the butter and 1 cup of sugar until it is creamy and fluffy.
On medium speed, add in the lemon zest and the lemon juice.
Slowly add the flour mixture in, beating until combined well.
Add in the oatmeal and beat until combined thoroughly. Using a small cookie scoop, place a scoop in rows on the cookie trays.
In a shallow dish pour in some water, place the ⅓ cup sugar in another shallow dish.
Dip a flat bottomed glass into the water and then into the sugar.
Flatten each scoop of cookie dough.
Bake for 10 to 12 minutes.
Let the cookies cool before removing to a wire rack.
While the cookies are cooling, grab a small bowl and combine the lemon juice, the lemon zest and the confectioners sugar. Mix well.
When the cookies have cooled completely, dip the tops of the cookies into the icing.
Allow the icing to harden before serving.
TIPS AND TRICK
The following are some helpful hints for preparing the best lemon oatmeal cookies:
Freeze the cookie dough completely before using. If you do not freeze the dough before baking, the cookies will split further, resulting in a thinner, flat cookie.

Using a cookie scoop will ensure that all of your cookie balls are the same size and bake evenly.

Moving ingredients from the fridge to room temperature ensures that everything comes together smoothly and evenly without being overmixed. If your eggs are cold, place them in warm water and heat cubed butter in 10-second intervals until softened.

Do not overfill the measuring cups with flour, since this can cause the cookies to become thick. A kitchen scale is the safest and most precise tool to quantify the flour. If you do not have one, scoop your flour with a spoon before sprinkling it into your measuring cup and levelling it with a knife.

A silicone baking mat or baking paper should be used instead of greased baking sheets. If you coat a baking sheet with non-stick spray, your cookies will split more evenly and have a browner bottom.

To give the cookies a stronger lemon taste, whirl the lemon zest and sugars together in a stick blender before mixing them with the butter. This approach is unnecessary, but it infuses the sugars with a lot of lemon oil, giving them a distinct lemon flavour.
STORAGE
Cookies can be kept at room temperature for up to a week in a tightly sealed container. Insert a sheet of parchment or greaseproof paper between the layers of cookies if you are placing them in a container to prevent them from sticking together.
MAKE-AHEAD LEMON OATMEAL COOKIES
This lemon oatmeal cookie recipe is for you if you like to have cookie dough on reserve in the refrigerator. The dough can be mixed and refrigerated for 7-10 days or frozen for up to a month.
To preserve the dough, mould it into balls and place them in the freezer for a few minutes. After which, move them into airtight plastic containers or freezer bags and freeze again. You can alternatively use an 812-inch piece of greaseproof paper as a guide to shape the dough into a log. Refrigerate or freeze the log carefully wrapped in parchment, then cut the cookies into rounds before baking.
Bake your cookie dough directly from the freezer or refrigerator. If it's frozen, allow it to settle for 15 minutes at room temperature before placing it in the oven.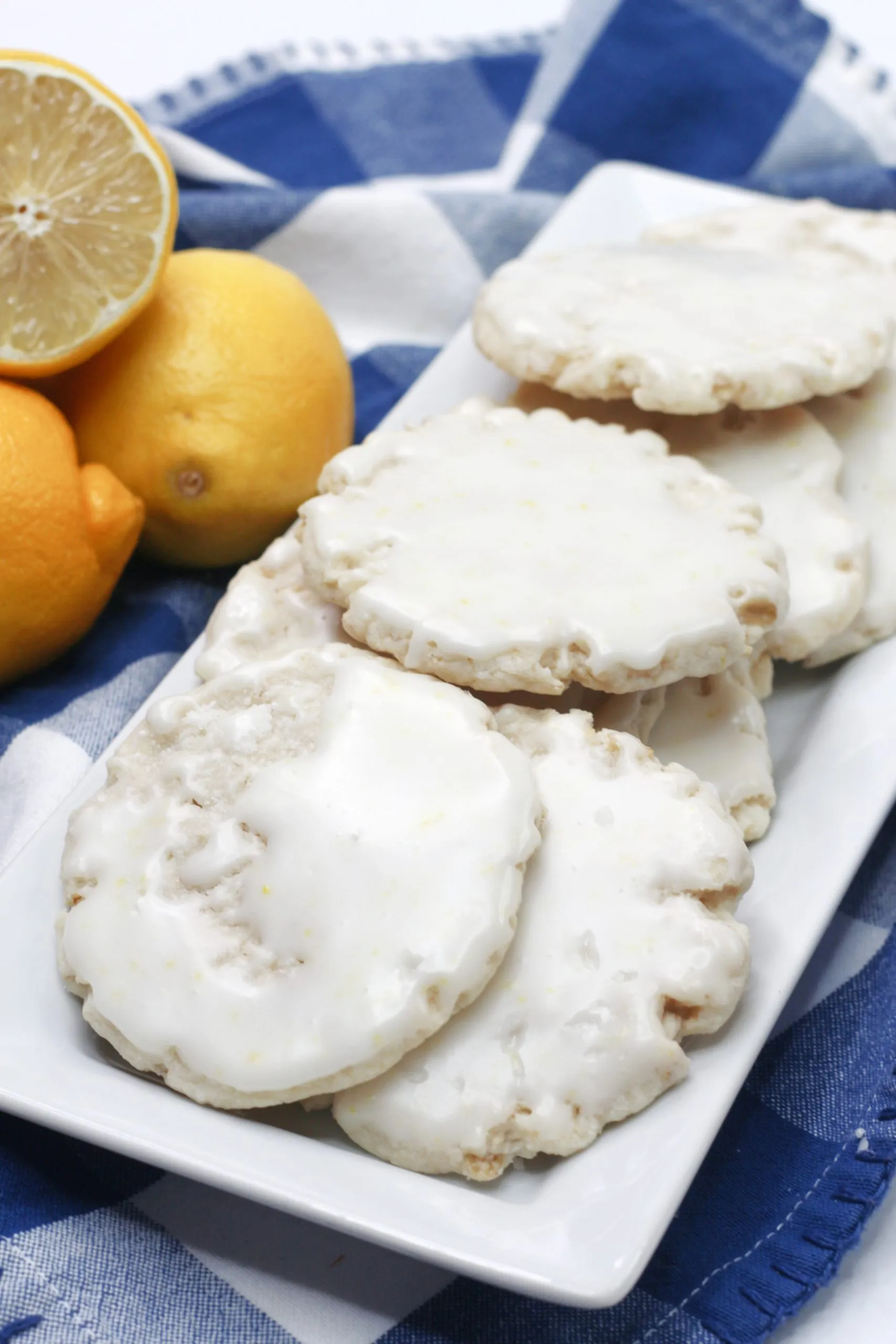 FREQUENTLY ASKED QUESTIONS:
Do I still need to use vanilla extract if I am using lemon?
Excellent question! Actually, you do not need the vanilla extract in this recipe. You will be using lemon juice and also lemon zest. It would likely eliminate any of the vanilla flavor.
Which type of oatmeal should I use?
I know many people that use quick cooking oats when they make oatmeal cookies. I guess I am old fashioned this way, I have always stuck with the Old fashioned oats for oatmeal cookies. They just make the cookies taste better, in my opinion.
However, you can make your cookies with either quick or old-fashioned oats, depending on your choice. In this recipe, I prefer to use old-fashioned oats, but you can use any sort of oats you have on hand! If you use solely quick oats, the cookies will be a little thicker and puffier. I enjoy the taste of old-fashioned/rolled oats since it makes the cookies chewy. If you would like, you can even combine the two!
Don't I need to add eggs for cookies?
Again, this is one of those recipes that have been modified over time. It is made to be a simpler style of recipe. No, you do not need to add eggs to this recipe.
Could I add chips or nuts?
If you think of a chip flavor that tastes good with lemon, yes, by all means go ahead. The same goes for the nuts. If you like nuts in your cookies, please add them.
What is the best way to soften butter till it reaches room temperature?
The simplest way to soften butter is to place it out for a few hours before making your cookies. However, since most of us are not always as prepared as we should be or do not plan ahead, there are a few procedures to softening butter precisely in minutes.
I prefer to soften butter in the microwave. Although it is rapid, you must be careful not to melt it. Simply place the entire stick of butter in the microwave (as long as it is not covered in foil) and heat for 6-7 seconds. Wait an additional 5-7 seconds if the butter is still very cold before checking it. You may need several intervals, and if the butter begins to feel soft, reduce the final interval to just a few seconds to avoid melting.
I really prefer to use my microwave's defrost setting — I am not sure what that function does differently, and it takes a little longer (closer to 30 seconds), but it tends to make it simpler to soften the butter without melting.
Why do the bottoms of my oatmeal cookies burn while the middle remains uncooked?
It is most likely a cookie sheet fault if your cookies are continuously burning on the bottom! If you use very dark cookie sheets, the bottoms of your baked products will burn before they are completely cooked. The same thing can happen if you apply a lot of cooking spray. I prefer non-stick pans that are lighter in colour so that I do not have to use any cooking spray. As previously stated, I have been using silicone baking mats for the past few years and I appreciate how effortless it is to remove cookies off the tray – no stickiness!
How do I freeze the cookies?
These cookies can be frozen and reheated with ease. I prepare a large quantity, freeze it for up to two months, and then take a couple out anytime we crave homemade lemon oatmeal cookies.
Follow these steps to freeze your cookies:
Scoop the cookie dough onto a baking sheet lined with parchment paper.

Arrange them so that they are closer to one another but not touching.

Refrigerate for six to eight hours or overnight.

Place them in a zip top bag, seal it tightly, and store in the freezer for up to two months.

Preheat the oven to 350°F and bake for fourteen minutes to reheat.

Allow them to cool on the baking sheet for 15 minutes before relocating them.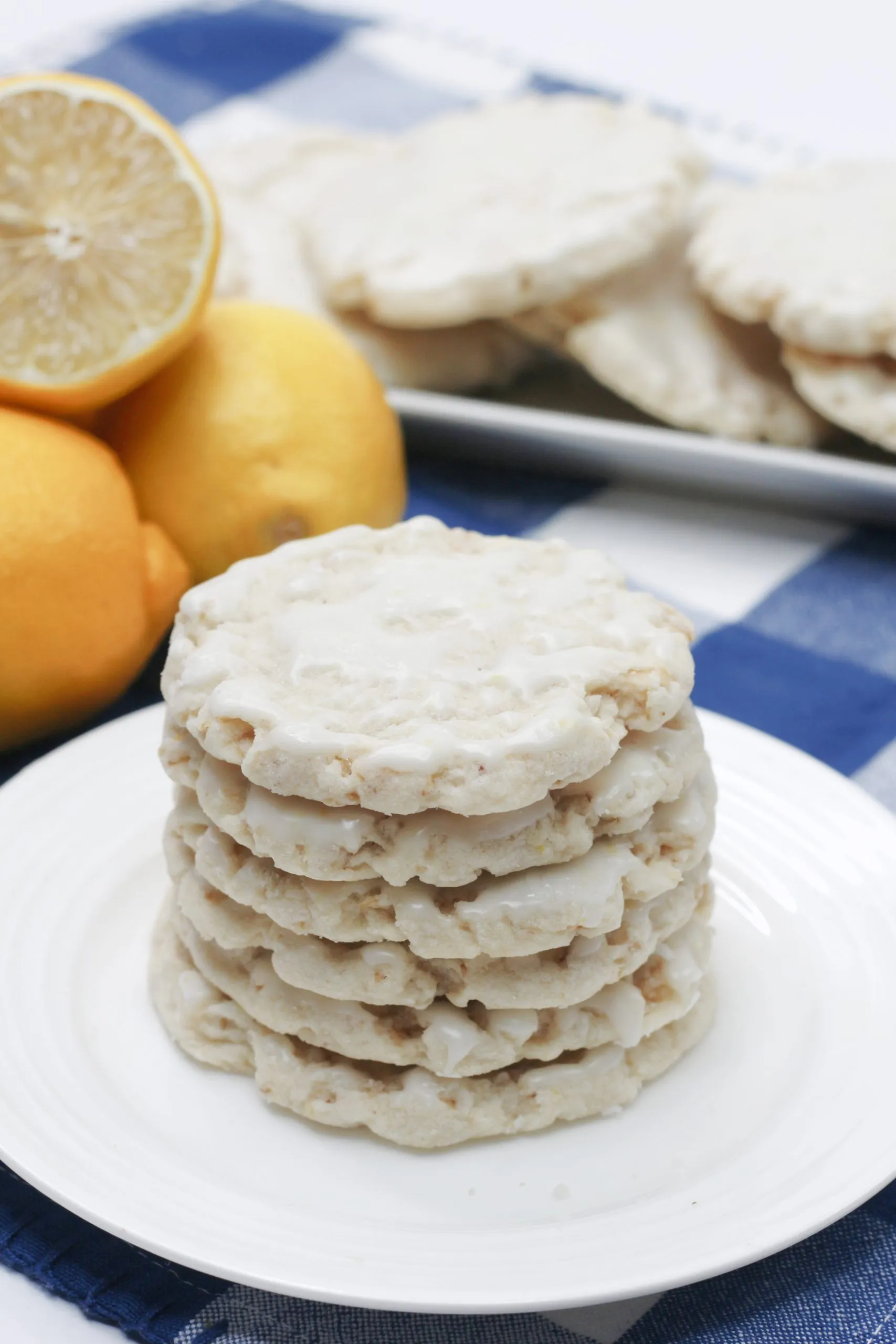 CONCLUSION
For over a decade, we have been fans of these delectable and flaky lemon oatmeal cookies. And you will enjoy them as well. However, if you make these lemon oatmeal cookies exactly as instructed above, you will not be disappointed: they are buttery, nutty, and well made. With a fair amount of lemon flavour, this simple and easy lemon oatmeal cookie recipe is a must-try!
Yield: 24
Soft Lemon Oatmeal Cookies
Ingredients
1 ½ cups Old Fashioned Oatmeal
1 cup butter, unsalted and softened
1 cup all purpose flour
1 tbsp lemon zest
2 tbsp lemon juice
¾ tsp baking soda
¼ tsp salt
1 cup sugar
Glaze:
½ cup Powdered sugar
3 tbsp lemon juice
2 tbsp lemon zest
Instructions
Preheat the oven to 350*
Spray the trays with nonstick spray or line with parchment paper
In a mixing bowl sift together the flour, salt and baking soda
In another bowl combine the butter with 1 cup of sugar until it is creamed
Add in the lemon juice and the lemon zest
Add the flour mix a little at a time until all is mixed together
Add in the oatmeal and beat until the dough is mixed well
With a small cookie scoop, place scoops of dough onto the cookie trays
In a shallow dish place some granulated sugar, in another bowl place some water
Dip a glass into the water and then the sugar and flatten each cookie
Bake for 10 minutes
Allow the cookies to cool
At the same time, in a bowl mix together the Powdered sugar, the lemon juice and the zest, mix well
When the cookies have cooled, dip the top of each cookie into the glaze
Let the glaze harden before serving
Nutrition Information:
Yield:
24
Serving Size:
1
Amount Per Serving:
Calories:

139
Total Fat:

8g
Saturated Fat:

5g
Trans Fat:

0g
Unsaturated Fat:

3g
Cholesterol:

20mg
Sodium:

66mg
Carbohydrates:

17g
Fiber:

0g
Sugar:

11g
Protein:

1g