Valentine's Day is not complete without some sort of delectable dessert. Chocolate M&M Cookies for Valentine's Day are fantastic! These flawlessly baked cookies are delightfully chewy and packed with soft and melty milk chocolate M&Ms. They are wonderfully chocolatey, thanks to cocoa powder and, of course, chocolate M&Ms. There is a lot of chocolate goodness in this recipe. They are every chocolate lover's fantasy come true.
These tasty cookies are also a hit with the kids! The best part is that you can use any holiday-themed M&Ms you want: Easter, Xmas, you name it. This is a tasty and simple cookie that is a Valentine's Day staple but also a lot of fun to make!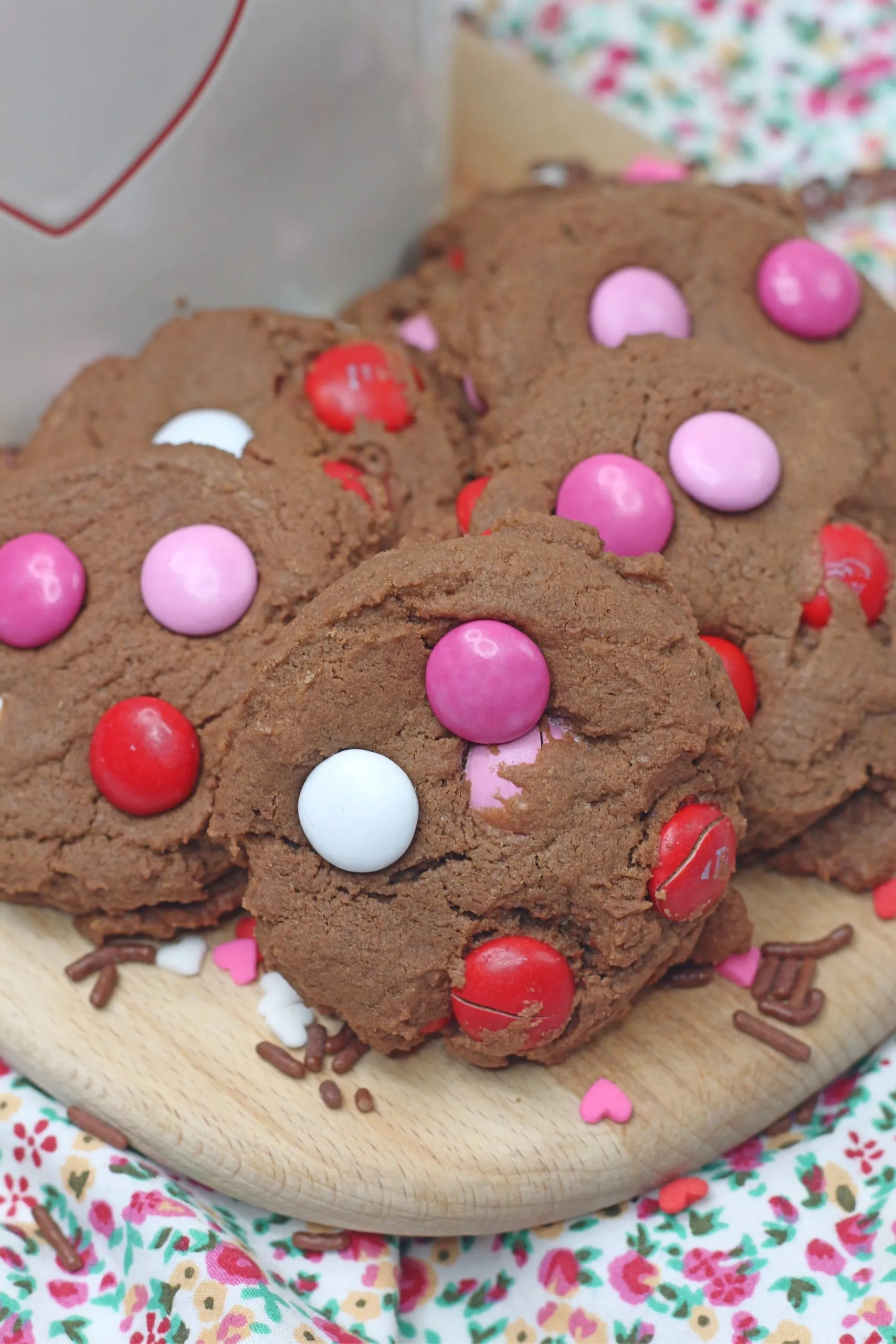 TIPS AND TRICKS
To make a solid cookie, make sure you measure your flour accurately. If you use too much flour, the texture will be brittle and crumbly, and if you use too little flour, the texture will be flat, crisp, and flaky. To get the finest results, learn how to correctly measure flour with a spoon and levelling approach.

Chill the dough if you want thick cookies. It tends to give them a thick, chewy texture that prevents them from spreading too much while baking. I normally chill my dough in the refrigerator for approximately 30 minutes if I have the time. Also, add 1-2 tablespoons of cornstarch to the flour mixture for thicker cookies. If you want it even thicker, add an additional 2 tablespoons of flour.

To make a prettier cookie, add extra M&Ms to the tops. This can be done before baking or after the cookies have been removed from the oven. Either way, it looks amazing and gives your cookies a pop of colour (and chocolate)! If your cookies spread during baking, use a spatula to push the corners together to make a circle as soon as they come out of the oven.

You can use salted or unsalted butter, but in baking, I prefer unsalted. If using salted, reduce the salt in the recipe to 1/2 teaspoon instead of 1 teaspoon. Ensure that the butter is at room temperature before making these cookies; it makes a big impact.

The eggs help to bind the mixture and give it a distinct flavour and texture. To ensure the recipe hold together properly, make sure these are also at room temperature.

Chilling the dough will bring the flavours together even more! It also makes a huge difference in baking to achieve that flawless caramelization and cookie.

Adding a pinch of sea salt to the top of the cookie will help bring out the flavour without making it too salty. Simply said, it increases the flavour in your mouth!

Make giant cookies to get those bakery-style cookies! It will also ensure that the cookies are soft in the centre but crisp on the outside.

Individual dough balls should be frozen. That way, you can bake them whenever you want! Alternatively, you can freeze them once they have been baked and cooled fully. Simply remove from the freezer and allow to defrost on the counter until room temperature before serving.

Remove the cookies from the oven when the edges begin to brown, but do not overbake. When it comes to cookies, underbaking is always a preferable option for achieving that soft, chewy texture. Furthermore, they will continue to bake after you remove them from the oven.
WHAT DO YOU NEED TO MAKE VALENTINE'S DAY CHOCOLATE M&M COOKIES
These Valentine's Day Chocolate M&M Cookies are pretty quick and convenient to make and they would be ideal for a last-minute treat. You only need the following ingredients:
1 C flour
½ C cocoa powder
1 tsp baking soda
1/4 tsp kosher salt
1/2 C unsalted sweet cream butter, softened
1/2 C light brown sugar packed
1/4 C sugar
1 large egg
1 tsp pure vanilla extract
3 C Valentines Day M&M's (You'll only need 2 cups for the cookie dough since you'll probably snack on 1 cup of M&M's)
HOW TO MAKE VALENTINE'S DAY CHOCOLATE M&M COOKIES
Preheat oven to 350
Line two baking sheets with parchment paper.
In a small bowl combine flour, cocoa powder, baking soda and salt. Set aside.
In a standing mixer, beat together the butter and sugars until combined and fluffy
Beat in the egg, and vanilla extract
Gradually beat in the dry ingredients until combined
Fold in 1 ½ C of the M&M's
Using a medium ice cream scooper, scoop out some dough onto the parchment paper
Sprinkle remaining M&M's on top
Bake in the oven for for 10-12 minutes
Remove from oven and cool completely
FREQUENTLY ASKED QUESTIONS
Why do the M&M's crack?
Do not worry about any M&Ms that have cracked. This happens when you remove the M&M candies from the oven and they begin to cool — it is quite natural. The cookies are still delicious, and the breaks add character!
How long will the cookies stay fresh?
You should keep these cookies in a tightly sealed container. Also, if you let them cool completely before packing them away, they will last longer. Every row of cookies in our plastic container is normally separated by a layer of parchment paper. If stored properly in an airtight container, they will last for 2-3 days at room temperature.
At what temperature should I bake these Chocolate M&M cookies?
350°F is the typical baking temperature for cookies. While 350°F is the normal baking temperature, cookies can also be baked at 325°F. Now you know how to bake cookies at two different temperatures.
How do I know when Valentine's Day Chocolate M&M cookies are done?
When M&M chocolate cookies have a hard golden edge or bottom and are somewhat set on top, they are done. They have been overbaked if the edges have turned dark brown. Bake for a few minutes longer if the edges are not golden and the tops are not soft and shiny.
Why do my cookies become flat?
When cookies come out flat, it is usually because the butter is overly soft or perhaps even melted. This allows the cookies to spread. Another flaw could be that there is not enough flour—do not be stingy with your measurements. Finally, if you lay cookies on hot cookie sheets, they will flatten.
What is the best way to keep my cookies from spreading?
Using nonstick spray/butter to cover your baking sheet will make your cookies spread too much. A silicone baking surface is always recommended since it grips the bottom of your cookie dough and prevents the cookies from spreading too much.
How do I store these cookie leftovers?
Any leftover cookies can be stored at room temperature for up to 3 days in a sealed container or zip top bag. If you want to eat them warm throughout the week, I suggest heating them for 15 seconds.
CONCLUSION
Cookies covered with pink, red, and white M&M candies have a festive aspect to them that I adore. It takes the classic chocolate chip cookie and raises it to something bigger and better. Furthermore, these Valentine's Day M&M Cookies strike the ideal combination of buttery texture and sweetness.
It is also easy to make these: just mix, stir, form, and bake. When you think of it that way, it eliminates any fears you might have about baking.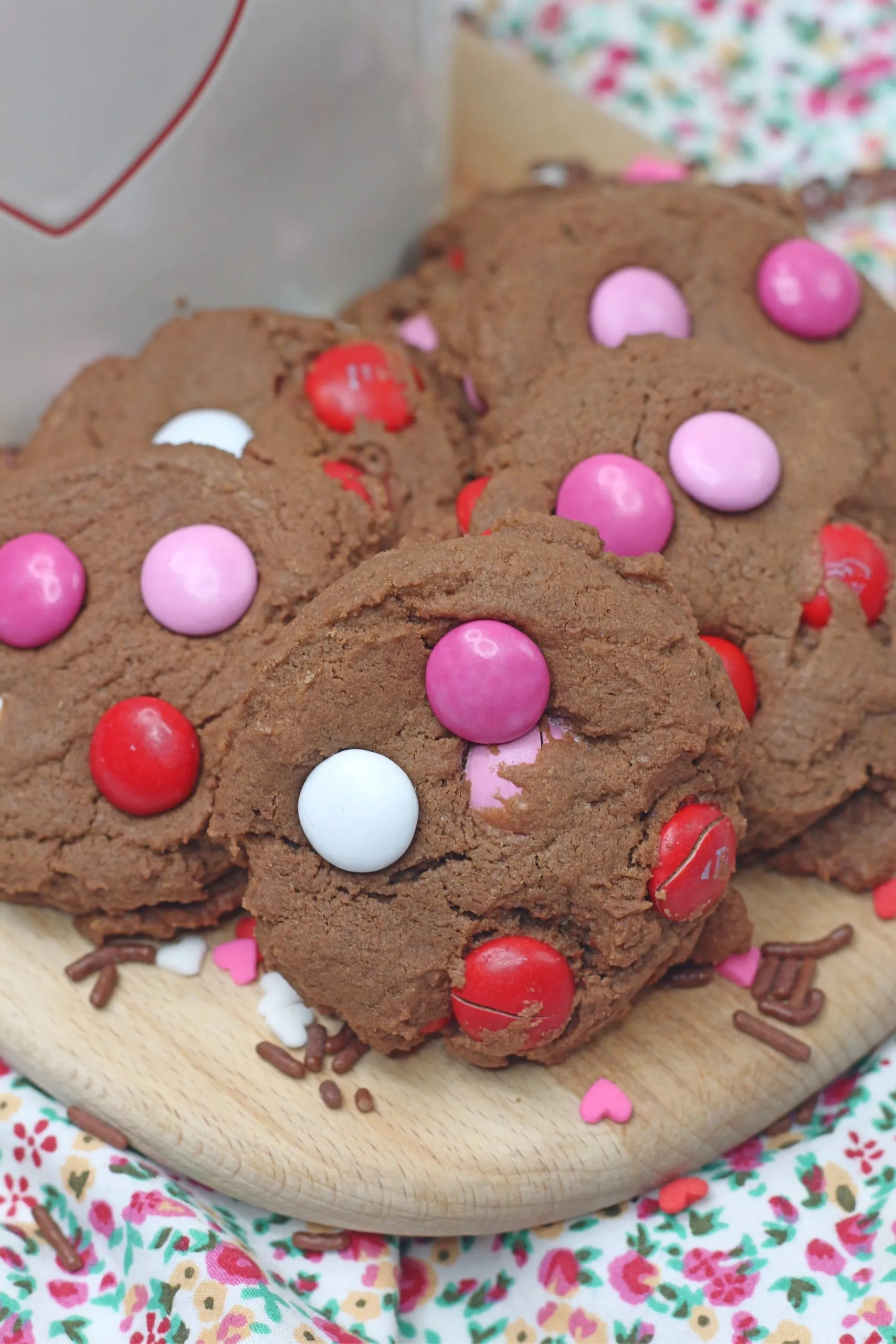 Yield: 12
Valentine's day Chocolate M&M Cookies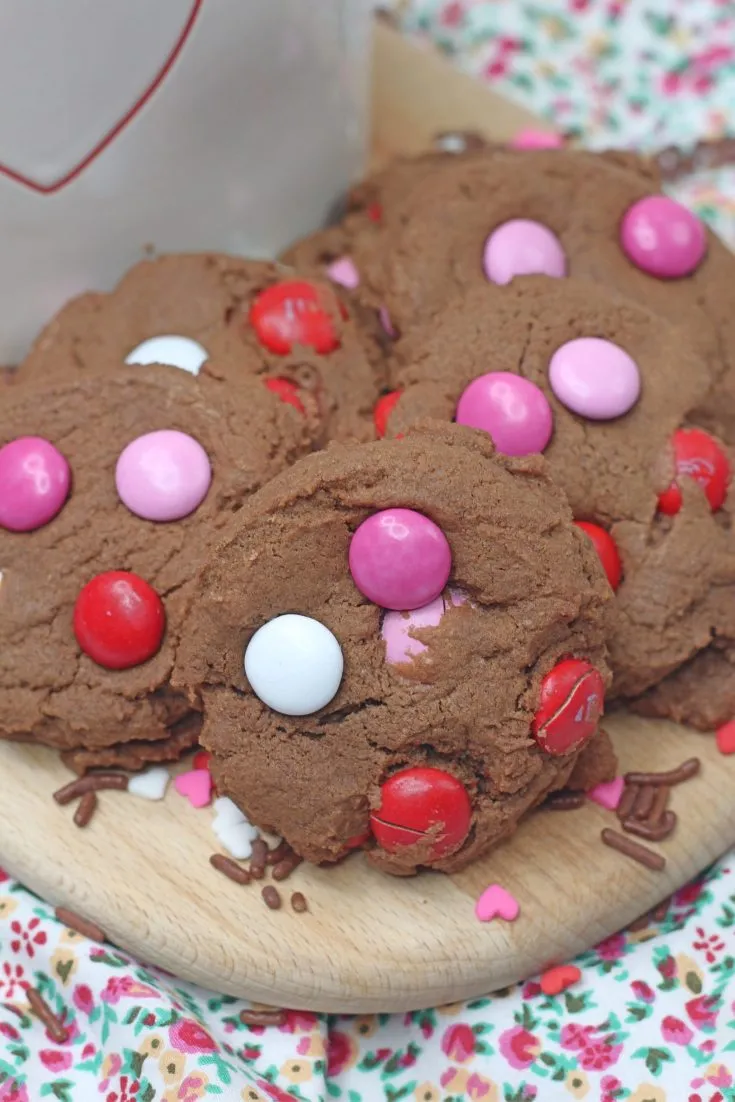 Ingredients
1 C flour
½ C cocoa powder
1 tsp baking soda
1/4 tsp kosher salt
1/2 C unsalted sweet cream butter, softened
1/2 C light brown sugar packed
1/4 C sugar
1 large egg
1 tsp pure vanilla extract
3 C Valentines Day M&M's (You'll only need 2 cups for the cookie dough since you'll probably snack on 1 cup of M&M's)
Instructions
Preheat oven to 350
Line two baking sheets with parchment paper.
In a small bowl combine flour, cocoa powder, baking soda and salt. Set aside.
In a standing mixer, beat together the butter and sugars until combined and fluffy
Beat in the egg, and vanilla extract
Gradually beat in the dry ingredients until combined
Fold in 1 ½ C of the M&M's
Using a medium ice cream scooper, scoop out some dough onto the parchment paper
Sprinkle remaining M&M's on top
Bake in the oven for for 10-12 minutes
Remove from oven and cool completely
Nutrition Information:
Yield:
12
Serving Size:
1
Amount Per Serving:
Calories:

426
Total Fat:

20g
Saturated Fat:

12g
Trans Fat:

0g
Unsaturated Fat:

6g
Cholesterol:

43mg
Sodium:

232mg
Carbohydrates:

58g
Fiber:

2g
Sugar:

45g
Protein:

5g