In my family, Doritos are an absolute staple. Every grocery run includes Doritos and everyone loves them. They are flavorful and crisp, and I can attest that they go with just about anything. We enjoy them with a movie, as a snack, for a quick side to a sandwich—you name it! So, it's no wonder that I found a way to work Doritos into a recipe. That is where this ranch Dorito casserole comes in. After I made this recipe for the first time for my family, they were hooked! Now, not only are Doritos a staple in our household, but this casserole is what everyone wants all the time.
I am excited to share this casserole with you all! In developing this recipe, I wanted this to be a casserole dish. Casseroles are my favorite since they make for easy preparation, cleanup, and lots of servings to go around. You want plenty of servings with this recipe! This delicious casserole packs a punch in flavor, and it's not the Doritos doing all the work either. The flavors of onion, garlic, taco and ranch seasoning, tomatoes, and more all work together with the crunch of the Doritos to create an appetizing and unforgettable dish. Not only is the dish amazingly tasty, but it is also just so simple.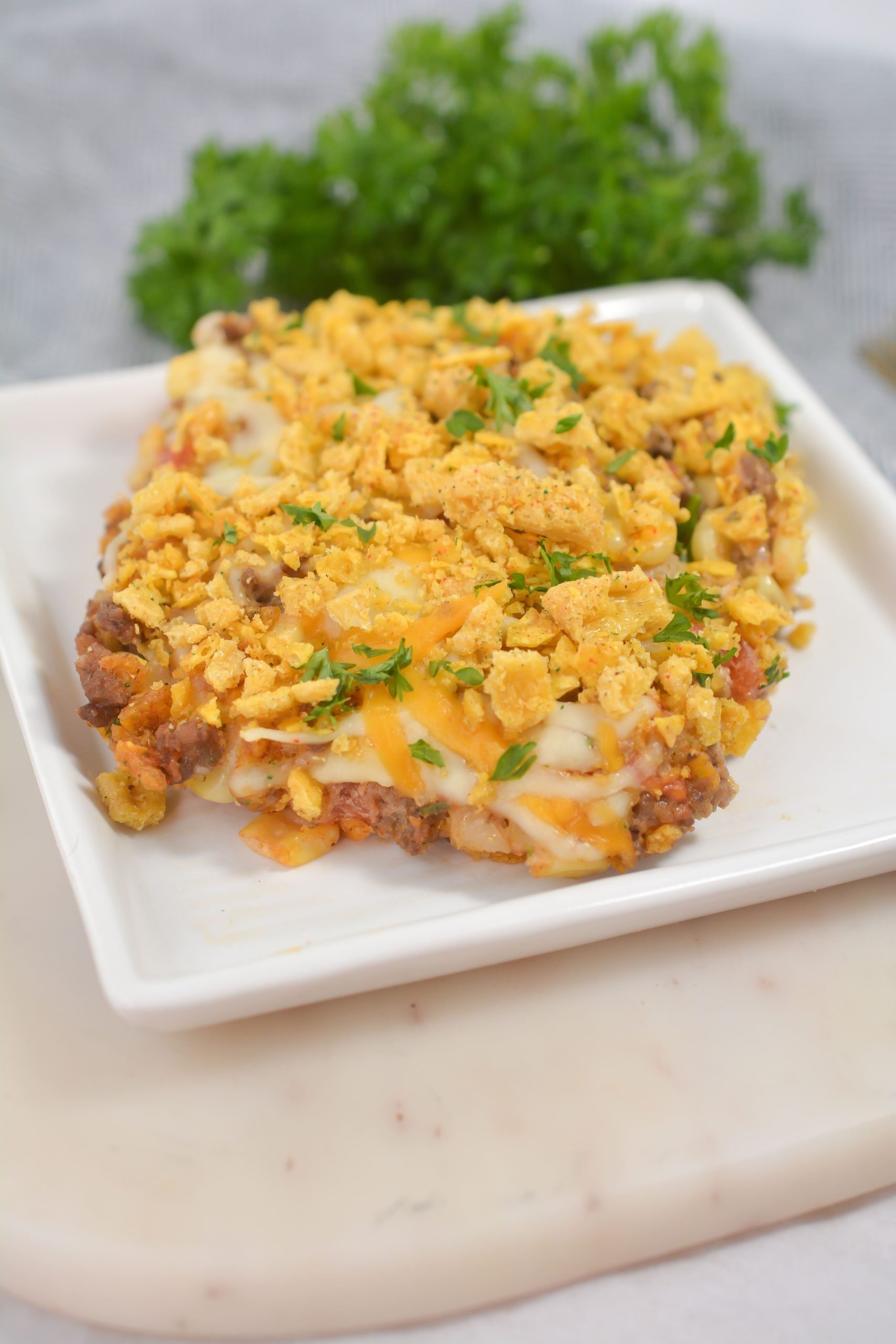 Can I use other flavors of Doritos for this casserole?
Of course! Doritos have all sorts of delicious flavors that would be amazing in this recipe. I personally enjoy the cool ranch Doritos in this recipe because it complements the other flavors, especially the ranch used in the recipe. However, the nacho cheese or the spicy flavor would also do well. Feel free to experiment with the added ingredients to compliment the Dorito you use. You can also use other types of chips (tortillas, regular chips, etc.), but I recommend something with a seasoning like Doritos to bring out the maximum flavors.
How can I prevent the Doritos from getting soggy?
There is a way! One hack I like to do with this recipe is to add a bit of extra butter or oil into the casserole dish before adding my mixture to the pan. The extra butter or oil will work to make a rather crispy bottom that is almost crust-like. Similarly, for the top, you can brush some butter and broil for a few minutes to brown and crisp up the topping. Sometimes, I even add a little extra cheese to the top and let it bubble up under the broiler as well.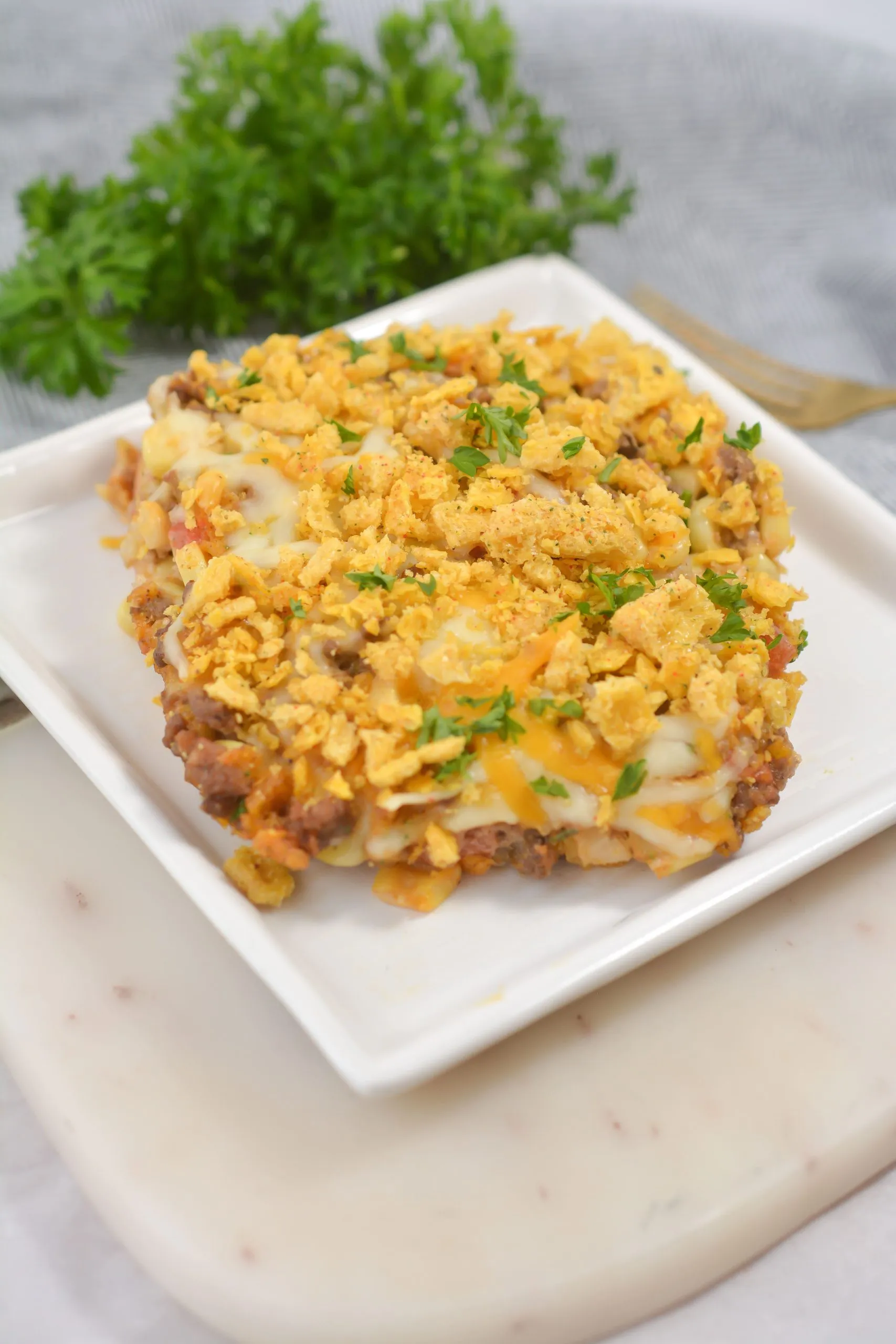 Can I make ranch Dorito casserole ahead of time?
Absolutely! I recommend making and serving within 24 hours for the best crisp from the Doritos crumbs. However, you can also make and freeze before reaching the baking step for a few months in advance. When preparing from the freezer though, do realize that you will still not be able to get the best crunch as baking fresh. You can also make everything else together except the Doritos and add them in later! There are a lot of
ways to go about it, but you can make this ahead of time.
Can I make this casserole spicy?
Absolutely! Have at it with the heat! I love a good kick of spice myself and this is the perfect dish to spice up. You can even use spicy Doritos in place of the cool ranch. There are a lot of flavors in this recipe that are in a lot of Mexican foods or tacos, so it makes perfect sense to add some zest. Because of the other flavors in this casserole, you also will not lose any flavors with adding some heat. Some ideas of spice include adding siracha, or a few jalapeno slices, hot spices, or a few of your favorite heavy heated peppers. If you want just a very slight bit of heat, you can also add in pepper jack cheese. Everyone has their own preference for spice, so the choice is yours about what is hot or too hot. As always, keep in mind too who you will be sharing your dish with. I have made half a casserole spicy and the other half normal before when serving family.
WHAT DO YOU NEED TO MAKE DORITO RANCH CASSEROLE
1 pound lean ground beef
1 packet Taco Seasoning
1 small white onion, diced
1 can Sweet Corn, drained
1 tbsp Ranch seasoning
1 can Rotel diced tomatoes with green chilis, do not drain
2 tsp garlic, freshly minced
2 ½ cups Taco Blend Cheese, shredded
3 cups crushed Doritos
1 cup Sour Cream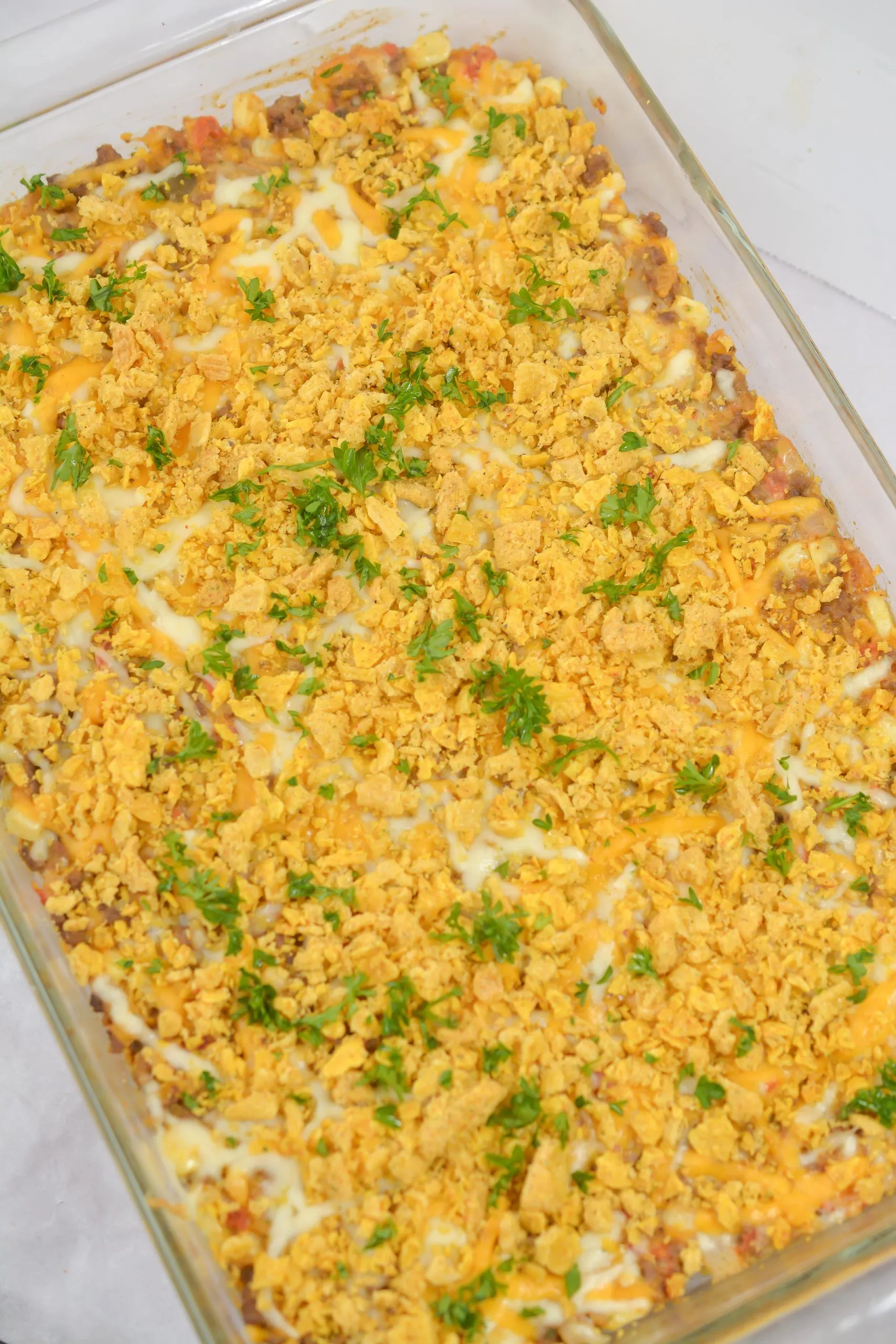 HOW TO MAKE DORITO RANCH CASSEROLE
Preheat the oven to 350* Spray a 9×13 baking pan with nonstick spray
In a skillet, crumble and cook the ground beef and diced onion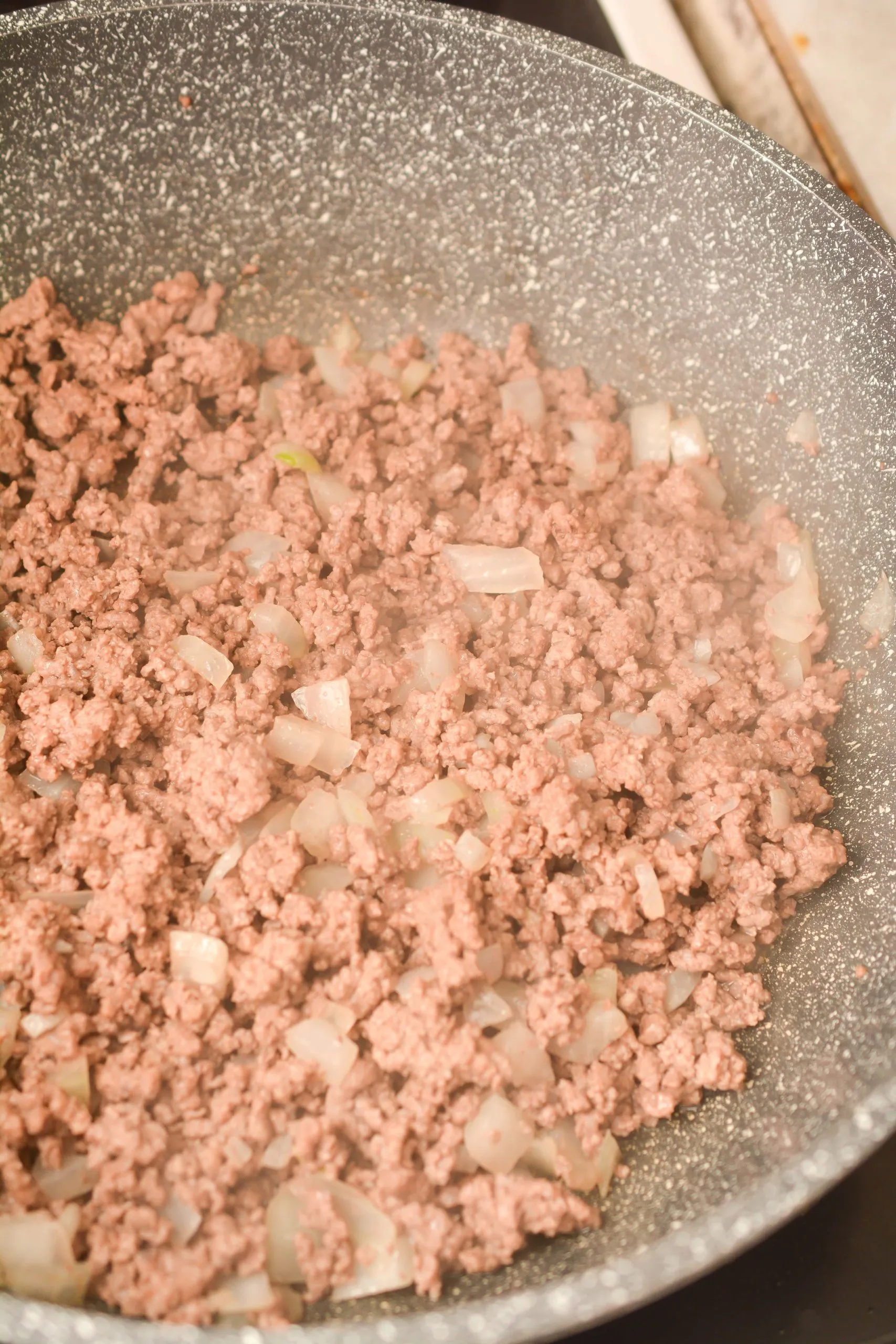 Drain any fat from the meat
Lower the heat to saute and add the garlic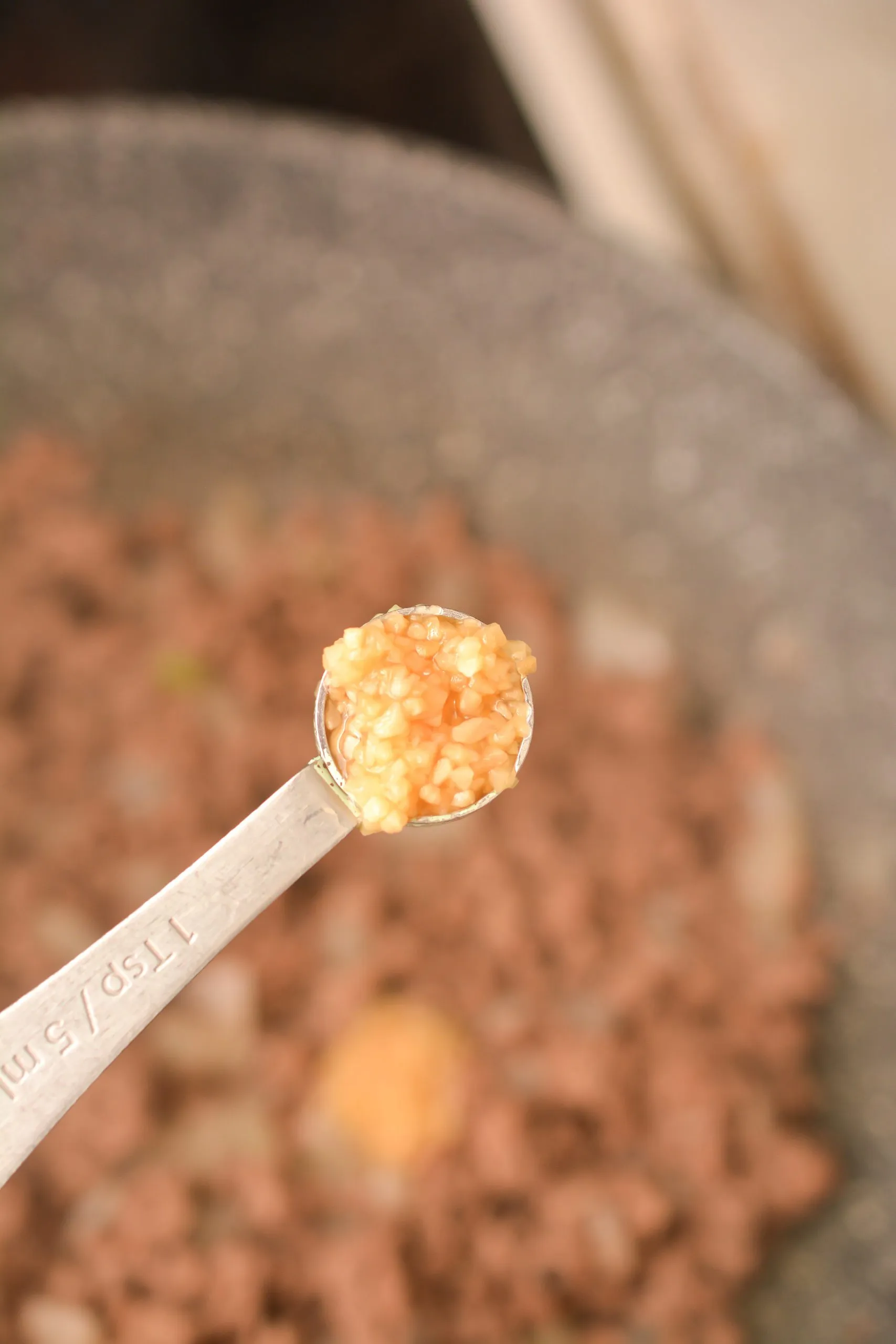 Saute until the garlic is fragrant
Mix in the Ranch seasoning mix, the corn and the tomatoes
Add in the Taco Seasoning
a)
b)
Simmer for three minutes
Stir in the Sour Cream and then the Dorito chips that were crushed
a)
b)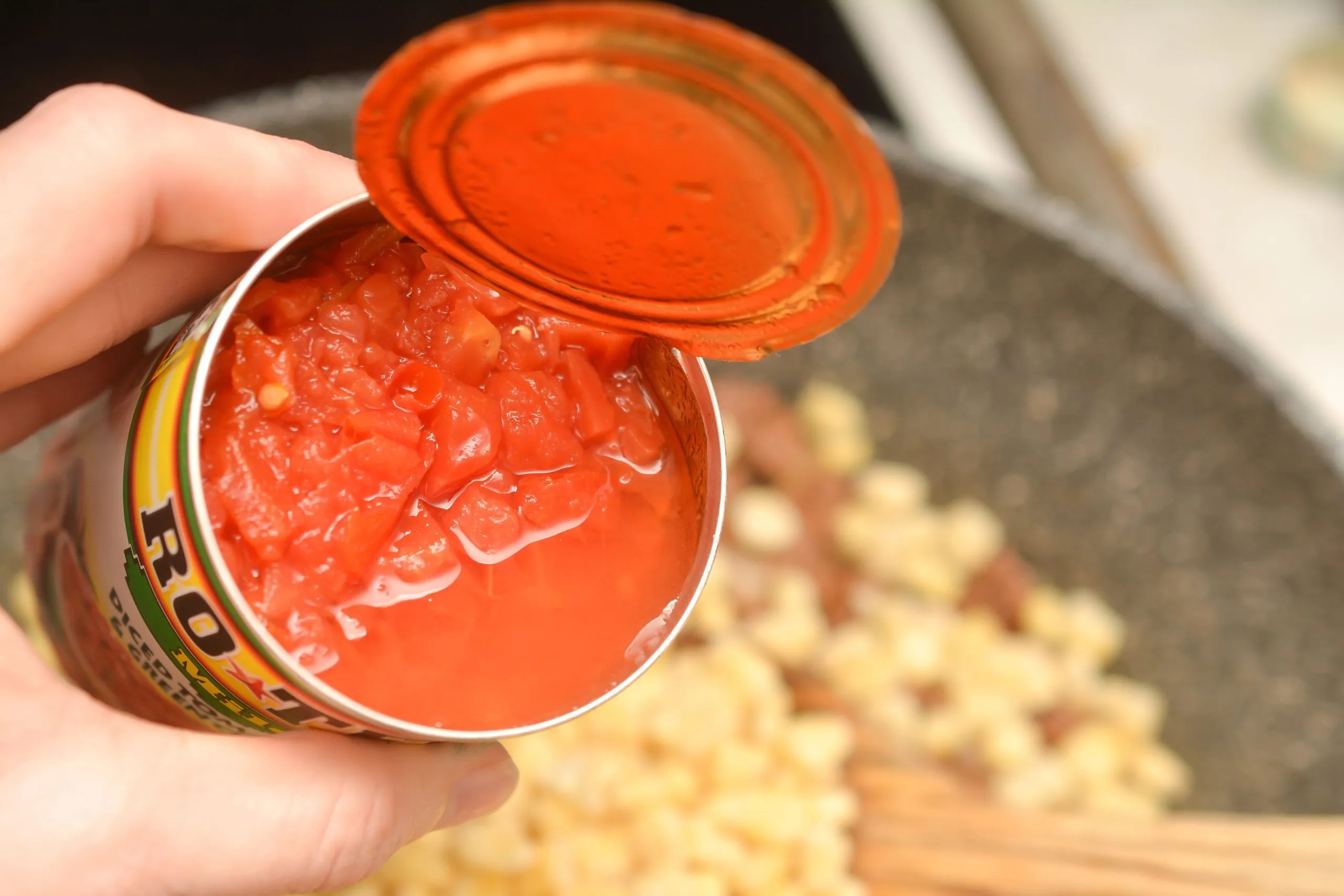 c)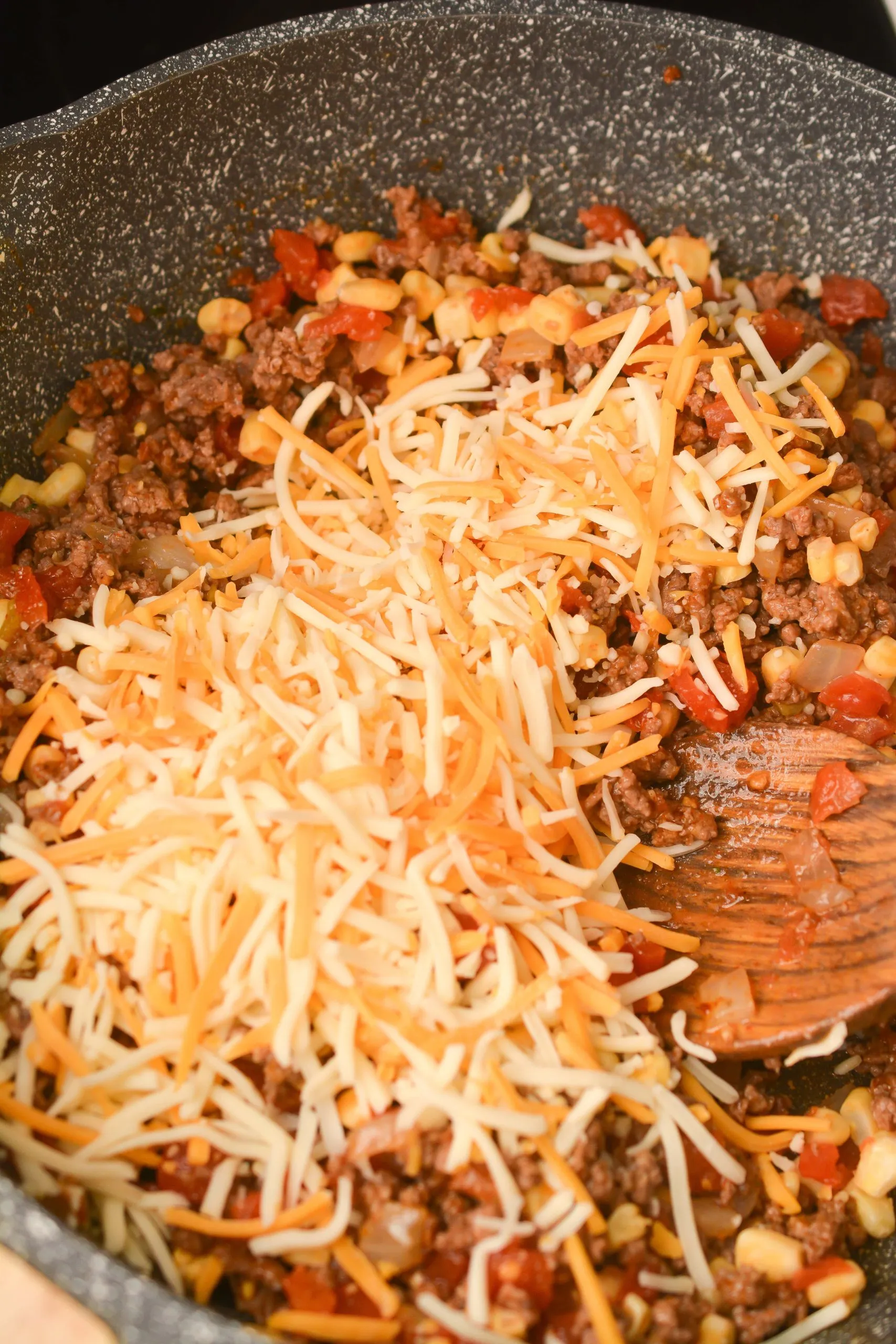 d)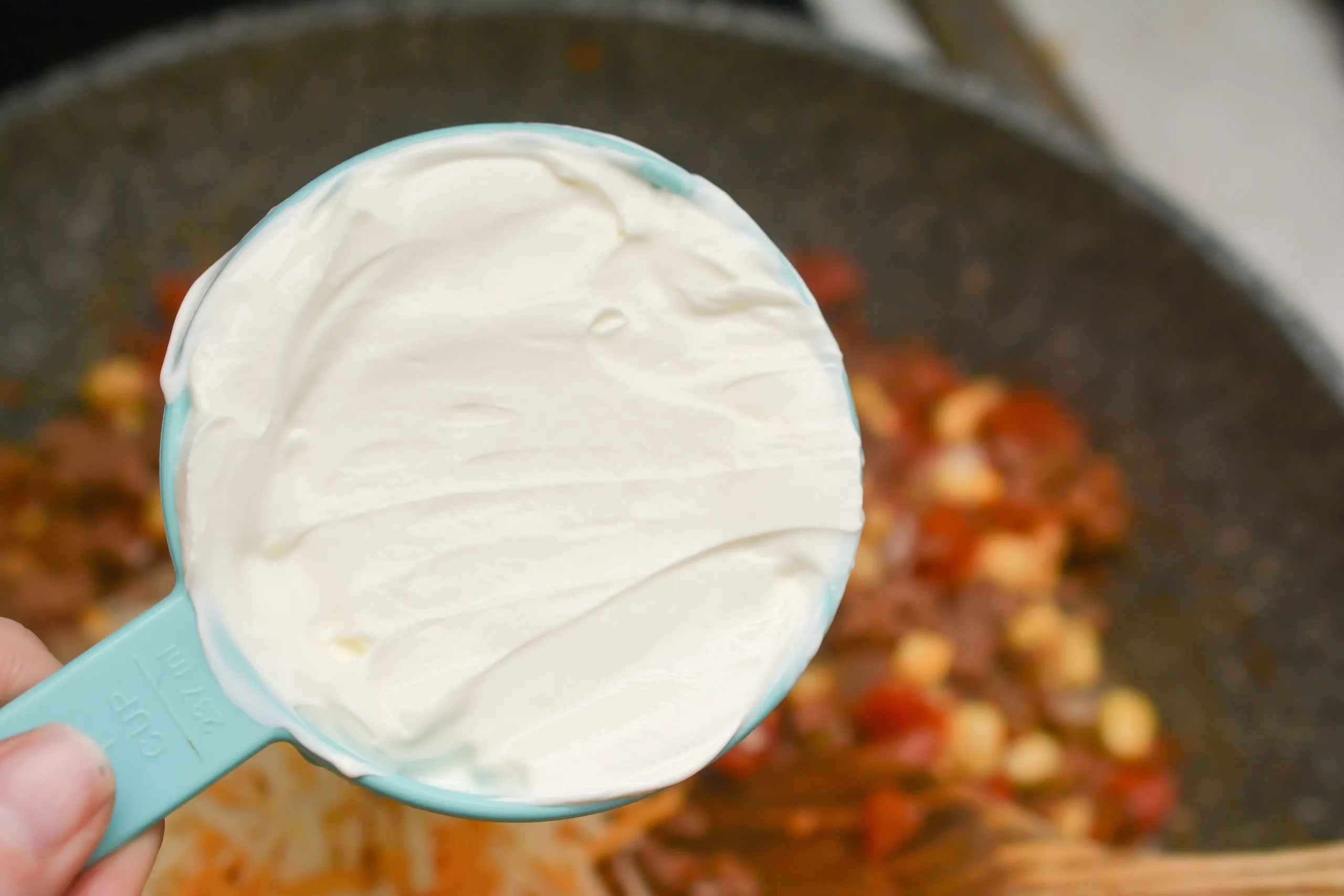 e)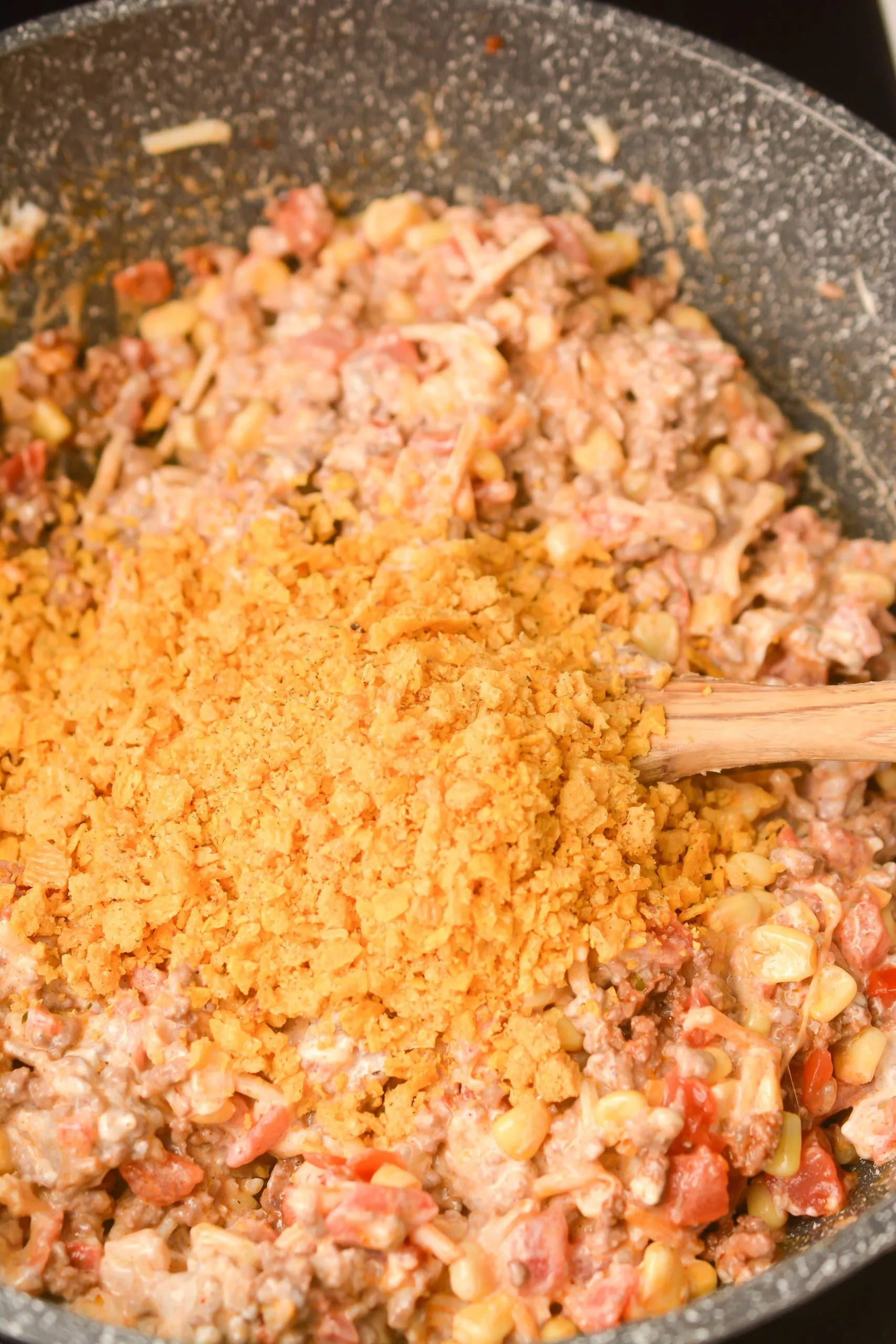 Scoop the casserole into the prepared baking pan and spread evenly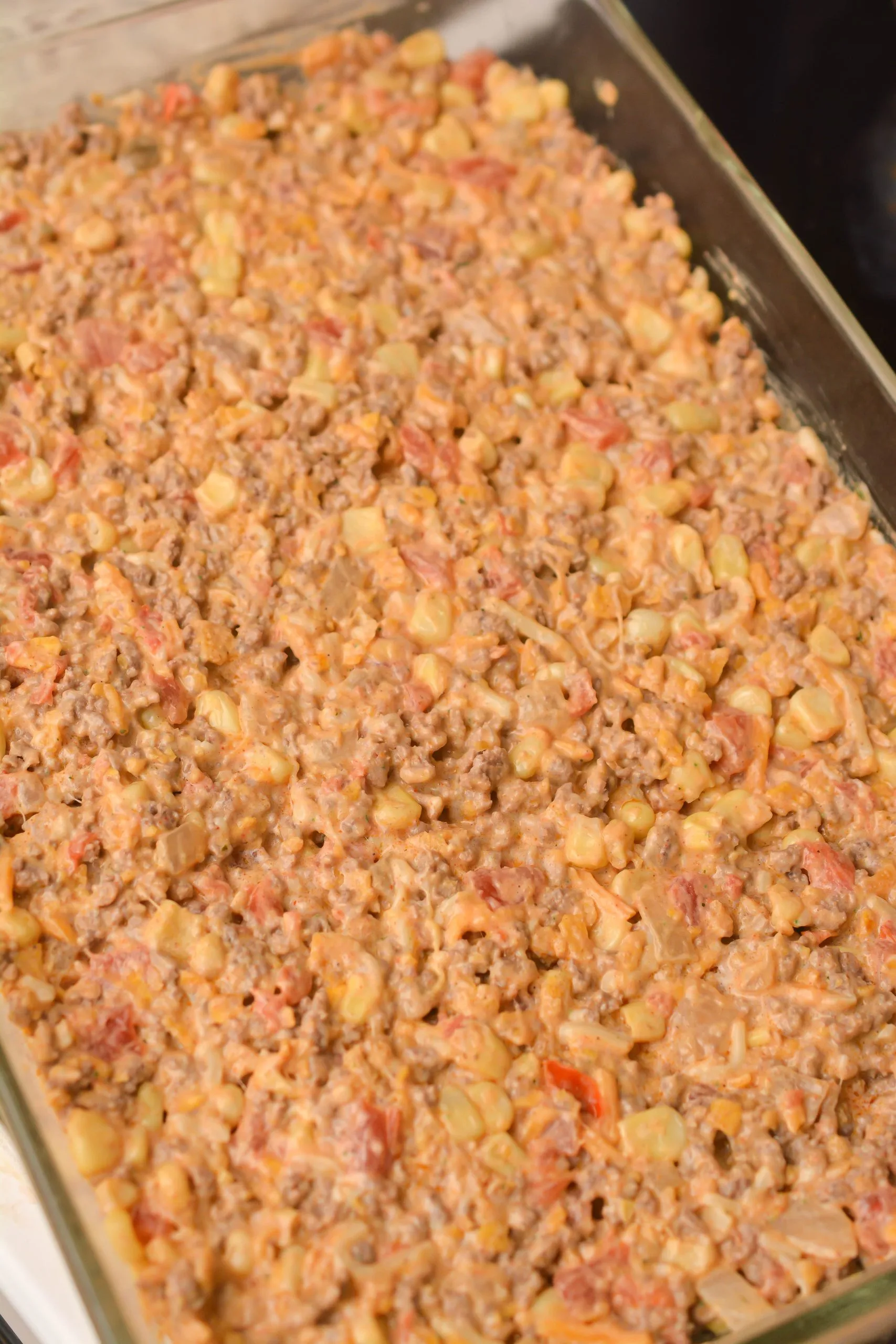 Bake for 15 minutes, remove from oven add the remaining cheese and place back in the oven for another 15 minutes or until the cheese is melted
What can I serve with ranch Dorito casserole?
As a bit of a heavy, hearty casserole this ranch Dorito casserole does well on its own as a meal. That is the beauty and the point of a lot of casserole dishes—it's a quick, simple, and filling. However, if you wanted to use this casserole as a side dish, you could go for some of these options to name a few:
– green veggies (green beans, roasted Brussel sprouts, sautéed broccoli, etc.)
-baked, roasted, mashed, or fried potatoes
-a garden salad with a ranch dressing to compliment the meal
-macaroni and cheese
-a creamy white sauce pasta
My kids personally love to use the casserole a makeshift dip and use extra Doritos to scoop it up. If you plan on turning this casserole into a dip though, I recommend adding at least 1 or 2 cups more of cheese for a more dip-like experience. The options really are endless with this casserole.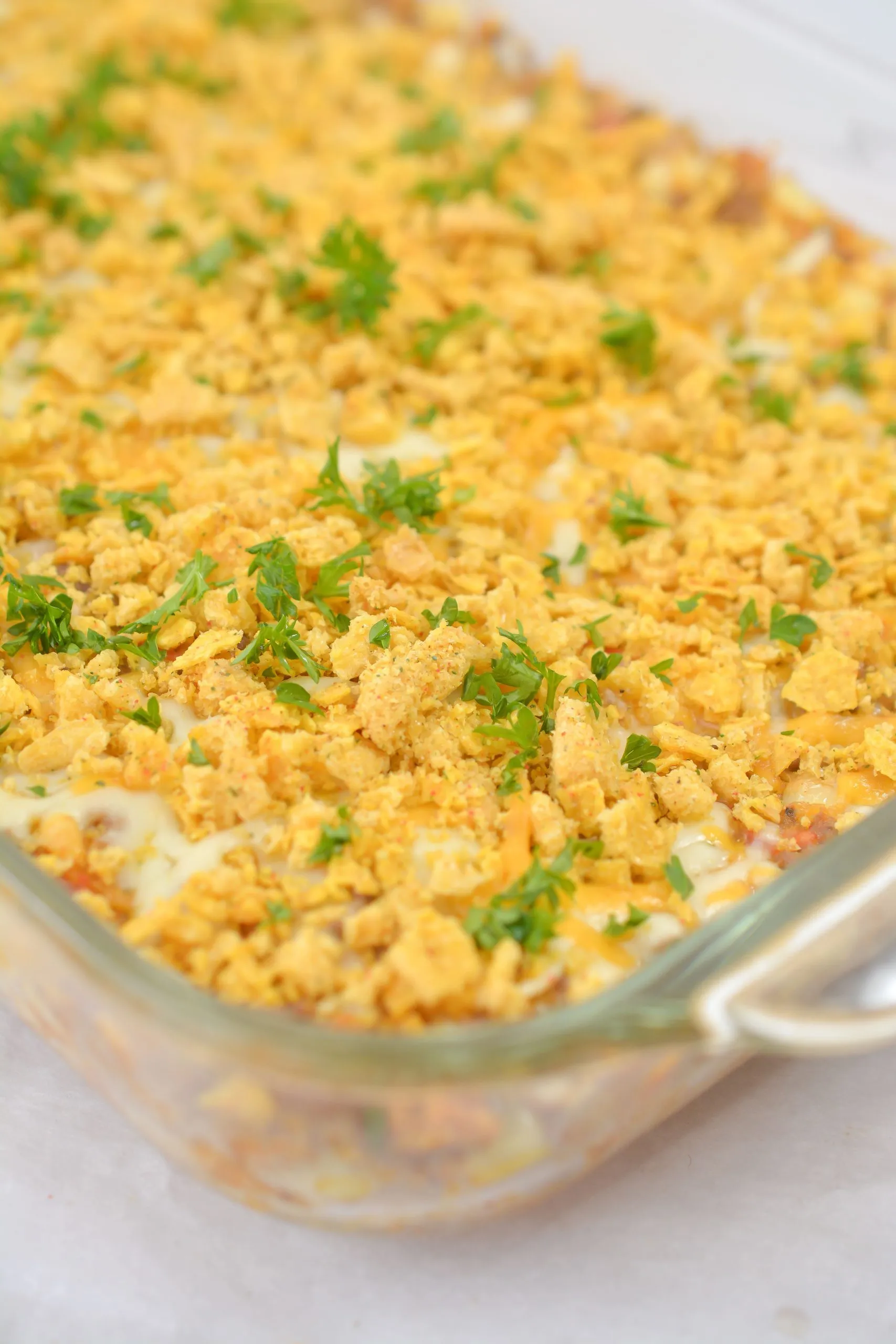 What variations of this casserole can I make?
You name it! As mentioned, you can also use chicken in the recipe in place of the beef. I personally enjoy using rotisserie chicken, as it is usually a quite juicy and flavorful type of chicken. Not to mention that rotisserie is also very convenient if you are purchasing it already prepared from the grocery store.
When using chicken, I sometimes like to add in a can of cream of mushroom or cream of onion for a creamier casserole. The soup also keeps the chicken from drying out and staying nice and moist through preparation, baking, and storing stages.
Alternatively, you can use turkey, sausage, ham, or any type of meat in place of the beef or chicken. You can also sub out ingredients or even make it vegetarian with more vegetables instead of the meat. I have made this without the tomatoes for a family member who absolutely hates tomatoes in any form—and it help up well!
Yield: 6
Dorito Casserole-Ranch Style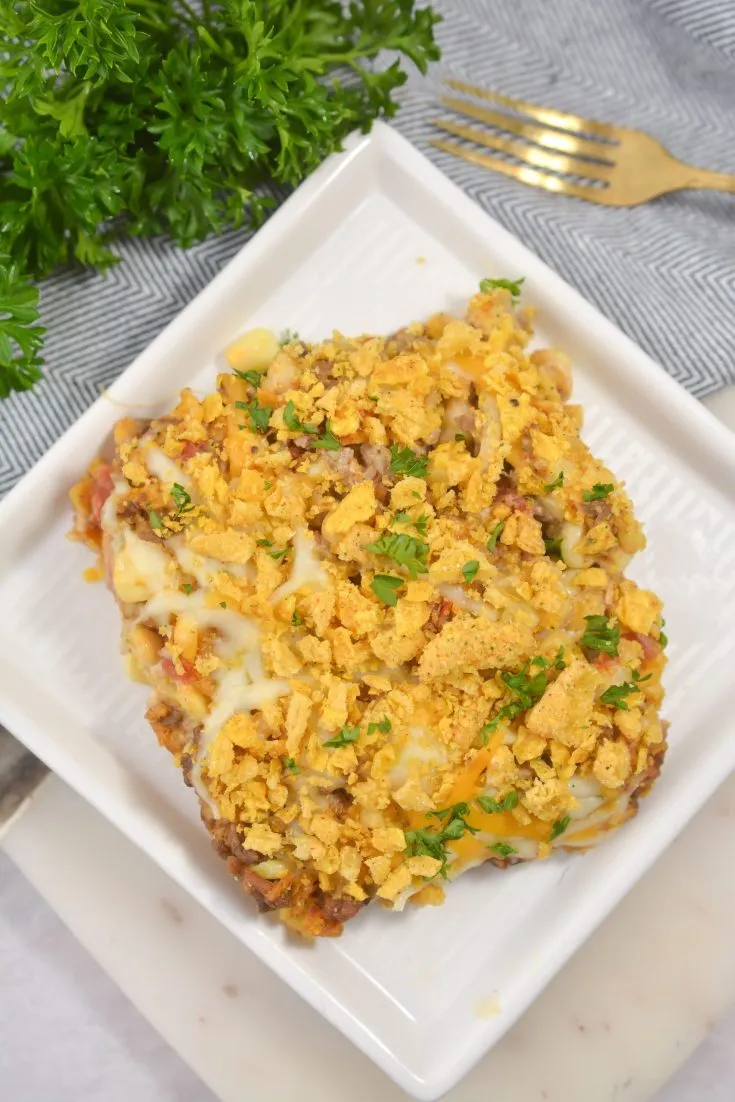 Ingredients
1 pound lean ground beef
1 packet Taco Seasoning
1 small white onion, diced
1 can Sweet Corn, drained
1 tbsp Ranch seasoning
1 can Rotel diced tomatoes with green chilis, do not drain
2 tsp garlic, freshly minced
2 ½ cups Taco Blend Cheese, shredded
3 cups crushed Doritos
1 cup Sour Cream
Instructions
Preheat the oven to 350* Spray a 9x13 baking pan with nonstick spray
In a skillet, crumble and cook the ground beef and diced onion
Drain any fat from the meat
Lower the heat to saute and add the garlic,
Saute until the garlic is fragrant
Mix in the Ranch seasoning mix, the corn and the tomatoes
Add in the Taco Seasoning
Simmer for three minutes
Stir in the Sour Cream and then the Dorito chips that were crushed
Scoop the casserole into the prepared baking pan and spread evenly
Bake for 15 minutes, remove from oven add the remaining cheese and place back in the oven for another 15 minutes or until the cheese is melted
Nutrition Information:
Yield:
6
Serving Size:
1
Amount Per Serving:
Calories:

1102
Total Fat:

59g
Saturated Fat:

17g
Trans Fat:

1g
Unsaturated Fat:

36g
Cholesterol:

118mg
Sodium:

2172mg
Carbohydrates:

101g
Fiber:

10g
Sugar:

8g
Protein:

42g