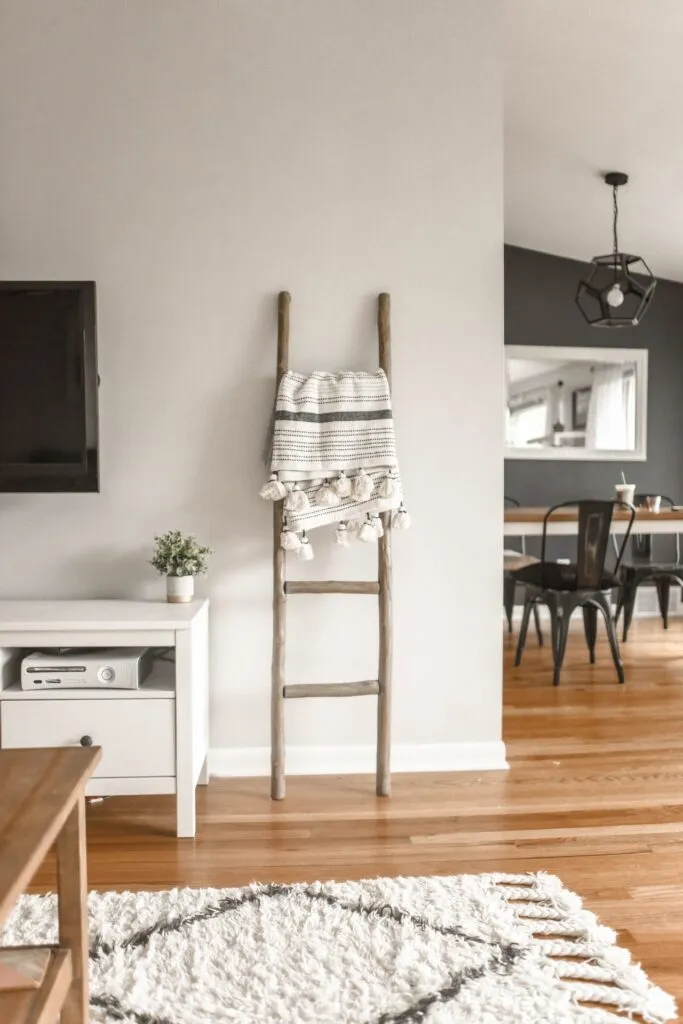 If you're anything like the rest of us, you love a good makeover. The problem is, makeovers can be expensive. So, what's a woman to do when she wants a change but doesn't want to break the bank?
Fake it, of course!
A "fakeover" is exactly what it sounds like—a makeover without spending any money (or very little money). You can achieve a "fakeover" simply by moving stuff around and adding frames, flowers, and other knick-knacks. 
Inspired by this blog post on Cup of Joy last week, I'm sharing tips on organizing your living room for a fakeover that will make it look like you spent a lot of money.
Start with a Clean Canvas
Always start with a clean canvas when trying to achieve a new look. That means clear off all surfaces—coffee table, end tables, TV stand, etc. Take everything out of your living room and sort it into three piles: keep, donate, and throw away. The point is to start from scratch so you can get creative with your space.
Once you've decluttered, give your living room a good cleaning. Don't forget to dust all surfaces, vacuum the floors, and wash any windows or mirrors. A clean canvas will help you a better sense of the space you have to work with and will make decorating much more accessible.
Assess Your Space and Your Furniture
Now that your living room is clean and decluttered, it's time to assess your space. Look around and make a note of any bare walls or empty corners. You'll want to focus on these areas when you start decorating.
Next, take a look at your furniture. Do you have any pieces that are too big or too small for the space? Do you have any pieces that are dated or worn? These are the pieces you'll want to replace or repurpose. Answering these questions will help you focus on what you want to achieve with this fakeover.
If you don't have any furniture that needs to be replaced, that's great! You can focus on accessorizing and adding décor to make your living room pop.
Choose a Focal Point
Every room needs a focal point—an area that instantly draws the eye when someone walks in. The most common focal points in the living room are the fireplace and the television. If you don't have either in your living room, choose another area to focus on. It could be a large window, a piece of art, or even a built-in shelving unit.
Since the point of a fakeover is to spend nothing, or bare minimum, on décor, you may not have anything to put around your focal point. That's okay! You can always get creative and DIY something.
If your chosen focal point is the fireplace, consider making a simple mantel out of a piece of wood and some brackets (this is an excellent tutorial for a faux fireplace mantel). Or, if your focal point is a large window, you could hang some sheer curtains to make it look more inviting.
Use Your Walls
Your walls are a great place to start when trying to achieve a fakeover. The simplest solution is a gallery wall. Grab some frames (you can even use frames you already have around the house) and fill them with pictures, postcards, or anything else that strikes your fancy. Voilà! You've instantly made your living room look more put together.
If a gallery wall sounds too much work, try hanging a large piece of art or a mirror above your sofa. This will make the room look more pulled together and make the space appear more prominent.
Another great way to use your walls is to hang floating shelves. These are great for displaying décor, books, or even plants. I love shelves above the sofa because they help fill the space and make it look more intentional.
Arrange Your Furniture
Rearranging your furniture is a great way to give your living room a new look. However, this one can be tricky since it will change the whole flow of the room. You'll want to ensure you have a clear idea of how you want the room to look before moving things around.
A good rule is to arrange your furniture around your focal point. So, if your focal point is the fireplace, you'll want to put your sofa and chairs, so they're facing the fireplace. If your focal point is the television, you'll like to arrange your furniture to face the tv. You get the idea!
Another thing to keep in mind is traffic flow. You'll want to ensure enough room for people to walk around without having to move furniture out of the way. The last thing you want is for people to feel cramped in your living room.
Accessorize
Accessorizing is one of the best parts of decorating because it's where you get to add your personal touch. This is where you can take your living room from drab to fab!
Again, you don't have to buy a bunch of new things to accessorize your living room. Look around your house for something you can repurpose.
An old ladder can make a great plant stand. A stack of books can be used to prop up a picture frame. Try using books, vases, candles, trays, and bowls to style your coffee table, end tables, and shelves. You can even use scarves or blankets as throws. The options are endless. Get creative!
Conclusion
A "fakeover" is the perfect solution when you want a change but don't want to spend any money (or very little). You can completely transform the look of your living room without breaking the bank. All it takes is a little creativity and some rearrangement here and there.
So, how about you? Have you ever done a fakeover? What tips do you have to share? Leave a comment below and let us know!